•The Story Of TINUBU, ATIKU, KWANKWASO & PETER OBI
The year 2023 is finally here. The much awaited presidential election is just a few weeks away. The electorates are warming up for the historic day. This particular presidential election has been described by many as a defining moment in our national history. Many fear that if we get it wrong this time, the consequences of a wrong choice of leadership might leave us with very devastating effects. So, the electorate is determined to get it right this time. And the political parties and their standard bearers are all leaving no stone unturned to ensure victory is theirs at the end of the day. They are combing the length and breadth of the country, canvassing for votes and tightening up their structures aheads of the elections. And although there are about 18 presidential candidates, only four of them have stood out as the front runners. They are Asiwaju Bola Ahmed Tinubu of the APC, Atiku Abubakar of the PDP, Rabiu Kwankwaso of the NNPP and Peter Obi of the Labour Party.
How prepared are each of these presidential candidates for the election? What are their stengths? What are their weaknesses? City People digs deep to unearth the qualities of these four top presidential candidates and bring to the fore their chances of winning the election and on the flip side, reasons why they may lose the election.
RABIU KWANKWASO, (NNPP )
Without a doubt, he commands great influence in the Nortyh-west. Indeed, he wields enormous influence there. Coming from the background of being a two-term governor of the populous Kano State, former minister of defence and a senator, Kwankwaso, no doubt, will benefit immensely from his massive, cult-like followership in Kano, parts of Jigawa and Katsina. He will have significant success polling most of the Kano votes, especially as Senator Ibrahim Shekarau, himself a former governor of Kano, has pitched tent with him.
This factor is not only plausible but real given the flurry of defections of key politicians, mainly from the ruling APC, to Kwankwaso's NNPP, this will cut deep into the chances of both Atiku and Tinubu in the northwestern states, which are famed to churn out the highest votes in national elections.
But the battle here, especially in Kano and Jigawa will be fierce.The Ganduje factor as a sitting governor and Tinubu's loyalist will ensure that Tinubu gets a larger percentage of the votes. The biggestr weakness in the Kwankwanso political structure is that he can not get much from other regions where he is viewed as a lightweight with no clear structure. He is less popular outside his base. He has no visible structures in the west, eastern or southern parts of the counrty and most shocking of all is that he has made no efforts to do the needful to enable him inmfluence votes in these parts of the country.This will surely work against him.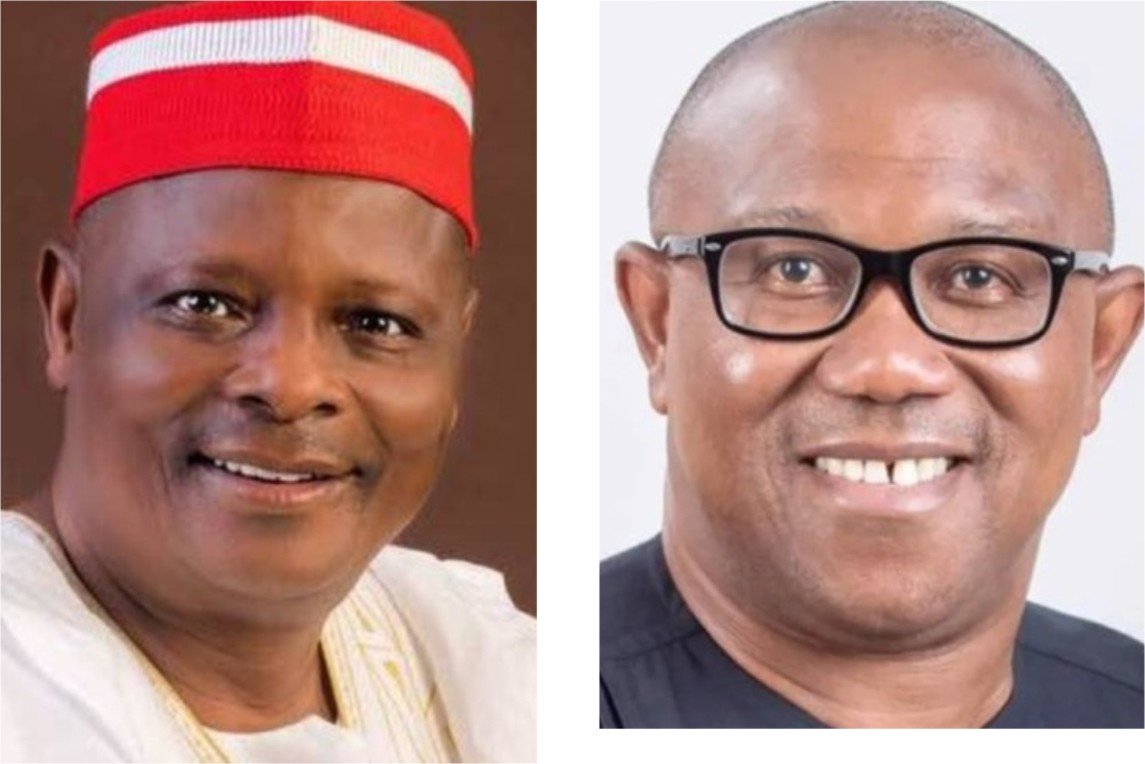 PETER OBI,
LABOUR PARTY
He is no doubt enjoying a roller coaster run in the ratings. Peter Obi, the Labour Party (LP) candidate who left the PDP few days to the party's presidential primary in which Atiku emerged the candidate, is currently a social media sensation.
Possibly after the APC presidential flag berarer, Bola Tinubu, he is the most talked about presidential contender in the current dispensation. His appeal has demographic advantage being largely driven by the youth that cut across geopolitical. He represents to them, the refreshing change they desired. They truly care less about his ideals or manifesto, or even about his not so great performance while in office as Anambra State Governor, he is younger than Atiku, Tinubu and Kwankwaso, and for that, he has their full support.
The youth in their thousands are raving about his candidature on Facebook, Instagram, Twitter and other platforms, but there are concerns that that may not translate into votes during the 2023 elections as most of them do not have voter's cards. And this is where the OBIDIENTS dream may hit a brickwall.
One of Obi's weaknesses has also been the fact he has been accussed several times of distorting figures just to suit his case and misinform the Nigerian publuic in the process. This has gotten many withdrawing their support from him as they no longer see him as the reliable candidate they expected him to be.
Peter Obi is expected to have significant advantage in Southeast. But the big concern here is that a large number of his kinsmern are not supportimng him for one reason or the other. The likes of Dave Umahi, governor of Ebonyi State, has vowed that his state will pitch tents with Tinubu.
Though Obi is a former two term governor of Anambra State and was the vice presidential candidate for Atiku in 2019, it is believed that his lack of political influence beyond his home state would be his greatest undoing in the election. Besides, his party platform, the LP, being devoid of national presence, will be an anathema to many voters willing to help his ambition to become the first Igbo man to ascend the presidency of the country.
But for his eloquence and ability to communicate explicitly, his plans on how to tackle insecurity, the economy and youth unemployment, as well as his relatively 'young age', largely regarded as representing the new order, compared to Atiku and Tinubu, who are perceived as belonging to the old political stock, Obi is bound to get swing votes from citizens who are shorn of religious, regional and ethnic sentiments that becloud Nigerian politics and define voting patterns.
ASIWAJU BOLA AHMED TINUBU (APC)
He is widely regarded as the Master Political Strategist. Lately, he has been called names such as Asiweaju of the Universe and the City Boy by his followers. Tinubu is a political phenomenon. Aside from Atiku, he is the most experienced politician and arguably the most connected with a network of loyalists across many geopolitical zones. But it must be said that it is doubtful if he has enough political goodwill in the southeast and south south to unseat both the PDP or the Labour Party in these zones.
Tinubu of course will sweep clean his native Southwest, and will have larger chunk of the north central many of whom share his belief on the need to restructure the country on the path of equity and justice. The Middle Belt are yearning for a change given their sad experience of killings, kidnappings and threat to their farmlands under Buhari the People's Democratic Party's candidate being another Fulani as Buhari will be a hard sell. Tinubu is most likely to win larger chunk of the votes, while the rest will be shared by Kwankwaso and Atiku. In the Northwest, the votes will go for a split but given the preponderance of APC governors in the zone, much of it will go to Tinubu with a threatening challenge from Atiku.
The Kano votes seen as deciders will be split but the larger share is expected to go to Tinubu given the influence of Abdullahi Ganduje, Governor of Kano State. An astute politican and Tinubu's loyalist. He has proved in the past that he was in charge as he routed the duo of former governors Kwankwanso and Shekarau in 2019 election. In the Northeast, Atiku will win Adamawa and Taraba with wide margins, but in Yobe and Borno, Tinubu is most likely going to carry the day given the support of former Governor Shettima of Borno and the current governor Zulum who are Tinubu's loyalists.
In South South, the Atiku phenomenon may have been dimmed by the treatment metted out to the Rivers State governor,Nyesom Wike by PDP. No one is in doubt about the enormous influence Wike has over his people. He, along with his Integrity group known popularly as the G5, have vowed not to support Atiku's presuidential ambition. Wike's disdain for the PDP presidential aspirant has been so intense that he has reportedly barred the PDP from campaigning in most major parts of the state.
Tinubu is expected to fare better in the South- South than Atiku. Obi is also going to get some votes in the zone.
One of the qualities of Asiwaju that has shocked and impressed many is his tenacity and die-hard spirit. One of the criticisms that has trailed Tinubu from the moment he declared his intention to run for presidency was the issue about his age and health status. Many of his detractors raised a lot of dust about his age, insisting he was too old and too sick to be Nigeria's president. But in what has been an astonishing response to the scathing remarks about his age and health condition. The Jagaban has traversed the length and breadth of this country more than nanby of the other contenders. He has clearly been the busier of the bunch. He is holding meetings round the clock, leading vcampaigns in different parts of the country and engaging stakeholders from different sectors of the nation's economy. This has earned him the respect of many, even his rivals, who didn't believe he still had that much energy and drive left in him. Even his remarkable bounce back from the Endsars protest that very nearly ruined his political career and presidential aspirations is still a mystery to many. For reasons yet unknown, Tinubu, it seems, was the target of the protest. But he stated calm all through it all, restrategised and came back stronger and bigger. This, definitely, will count for something for him.
ATIKU ABUBAKAR, (PDP)
He is an old political war horse. Atiku Abubakar has been contesting to be Prersident of Nigeria since 1993. He also contested in 2007, 2011, 2015, 2019, making it a total of 5 attempts. This is his sixth attempt and will definitely be his last shot at the presidency. There is no doubt he is an old, experianced veteran, but as influential as he is, he may produce his weakest effort yet in his current attempt to be president come 2023.
With emergence of Ibrahim Shettima former governor of Borno State as Tinubu's running mate, the Atiku presidential bid may not be easy as it seems given that Tinubu is an old political foxy who is not known to lose political battles. By picking a running mate from Atiku's region, he has given the latter a deadly political upper cut. Atiku going by facts on the ground has not been able to replicate that kind of advantage. The party whose flag he is flying is divided, unhelped by bitter primary election, which has pitted the party and Atiku against its biggest financier , the Rivers State Governor Nyesom Wike. This development will impact negatively on Atiku's chances in the south south where Wike is a larger than life figure.
In Delta State whose governor, Okowa he (Atiku) picked as vice presidential candidate, the chances of Atiku getting massive votes are slim given Okowa's breached relationship with James Ibori, and the latter's hostility to Okowa's emergence as vice presidential candidate. And then lately, he appears to have run into trouble wirth his people when Wike announced to the world that President Buhari has paid all the Niger Delta states monies owed them from the Jonathan administration and that indeed, that's where he has been getting the funds to execute most of the projects he executed. This made the people of Delta State turn to their governor, Okowa, demanding to know why the state has been borrowing so much money when it indeed has been paid billions of naira owed it by the federal government. This even led to many hitting the streets, blocking the road leading to the governor's office and demanding an explanation from the governor. Without a doubt, this woill do a lot of damage to the party's performance at the presidential poll in the state.
Meanwhile, Atiku himself has hanging on his head questions about corruption allegations that have been connected to him for years now. Many Nigerians have also not forgiven him for his role in the shambolic and criminal privatisation exercise he led during the time as the vice president of Nigeria. He sold nearly all of the nation's assets to his cronies at giveaway figures and rendered thousands of Nigerians jobless.
In the south east, Atiku is dead on arrival as the Igbo will not leave their own and vote for Atiku given the region's long time quest for Igbo presidency.
In the Southwest, given the liberal nature of southwest politics, Atiku will get a sizable votes but marginal and not strong enough to make any impact given the clamour for power shift to the South. With the different permutations heralding the emergence of Atiku, Tinubu, Kwankwaso and Obi as prominent presidential candidates in the 2023 elections, it is a long shot from now to say with any iota of certainty, who would emerge victorious in the contest. Perhaps what is certain is that it will be the most fascinating presidential election in Nigeria's wobbling democracy.
Overall, while Atiku Abubakar and Bola Tinubu may have better name recognition, national spread, and the presence of political party structures across the federation. Other candidates like Peter Obi and Kwakwanso, resonate resoundingly among young and middle-class voters, and those who are looking for an opportunity for a shift from the status quo and established system.
Though religion and ethnicity have always played strong roles in the North, it is doubtful if Atiku can coast home on those parameters now given current scenario, shifting political dynamics and the desire of the APC governors out of enlightened self interest to support the APC presidential candidate for their own relevance and political future.
Supporting Atiku on the basis of sentiments will put them out of political circulation for eight years, a spectre they don't want. It is likely given all the permutations that Bola Ahmed Tinubu may win the presidential election come 2023. Shettima's emergence is a plus for him as it's a politically correct move.
The Christian Association of Nigeria (CAN) though angry at Muslim/Muslim ticket will still vote for him. The Association is seen as liberal and having the frame of mind that understands nuances, they are not known to harbour fundamentalist streak.
They may not be able to stomach the idea of another Fulani succeeding president Buhari,a Fulani given Nigerians' experience with insecurity and herdsmen issues. The lesser of the two evils for majority of Christians may be Tinubu, Muslim/Muslim ticket not withstanding. And at any rate, Tinubu has proven beyond doubt that he is a man who has shown respect to the Christian faith. Unlike Atiku who compelled his Chrstian wives to become Muslims, Tinubu gave his wife, Remi, the liberty to practice the religion of her choice – Christianity. She is not only a Christian, sjhe is a Christian with the Redeemed Christian Church of God.
– Wale Lawal
(08037209290)
Send Us News, Gist, more... to citypeopleng@gmail.com | Twitter: @CitypeopleMagz