Do you know how your partner bought her last pair of jewellery (probably her tenth one this month)?
She went onto Instagram where their favourite celebrity or influencer showed off her new pair of earrings from a new designer. She followed the link to the designer's Instagram page where she found their Whatsapp number and sent them a photo of the piece they would like.
After confirming the price, she paid via ATM or eWallet and Whatsapp'd back the proof of payment and waited for courier delivery. When she got their earrings, she went back onto Instagram to post a picture of their new pair, which inspired her followers to visit the designer's Instagram.
Today's consumer is living in a real-time world of mobility that enables them to access and consume content at a touch of a button, which is why it is crucial for all business owners to ensure that their company is visible online.
And thus there has been a strong upsurge in the number of small businesses that have built their business success purely on social media — but this platform is hugely dominated by female-owned business and male-led brands have taken a backseat to this new trend.
Refilwe Khumalo, entrepreneur, and the executive coach says an online brand awareness strategy should focus on educating your potential customer on the benefits of adopting your product or service. "Once you have the attention of potential clients, you should strive to build a long-term relationship with them to convert them from one-time buyers to repeat customers with brand loyalty."
Building and having a presence on social media also enables you to strategically craft your desired brand perception, and build your reputation and credibility. Khumalo recommends the following tips for growing your following: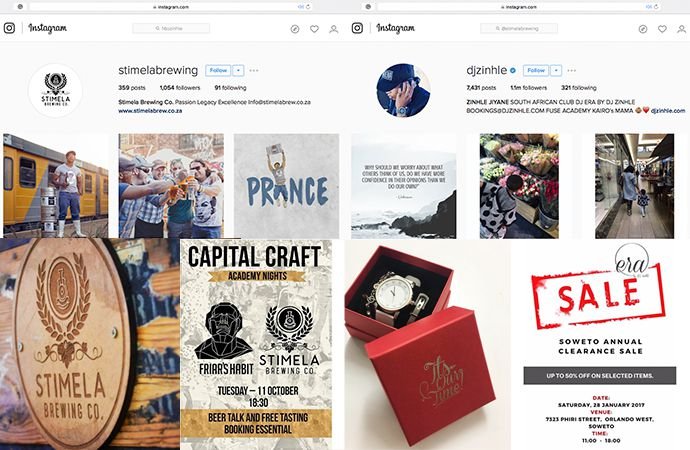 Assess your brand
It's important to take into account what type of brand you are. Define your brand's personality and consider the demographics of your potential consumers when developing your social media advertising strategy.
Begin by assessing who your target market is and then researching which social platforms they frequent. For example, if you are a cool brand targeting a younger market that has access to multiple social media platforms, it may not be necessary to be on LinkedIn.
Tailor make content
Different content resonates better on different platforms so what works on Facebook may not work on Twitter. Also the consumers that follow your brand on Twitter are likely to differ from your audience on LinkedIn. So always ensure to create content that works on the specific platform and speaks directly to that audience, while staying true to your brand personality and key message.
Do not over share
It's important to strike a balance between being informative and annoying. The fastest way to get people to unfollow you is to over share content. According to research done by American company Socialbakers, top brands average on one post per day. On Twitter it is best to post up to four times a day, twice a day on Instagram, and once a day on LinkedIn and Google+.
Share relevant content
Khumalo says you shouldn't share everything that the company gets up to on social media. She suggests applying the WIIFTC strategy. Always ask yourself: what's in it for the customer?
Customers are more likely to engage with your brand on social media if they feel the brand cares about them. Avoid brand narcissistic syndrome – where you as a brand focus solely on yourself and not what customers stand to gain.
Share quality content
It is crucial that you invest in quality content curation, which you can do by researching what kind of content are your audiences more receptive to. Look at the kind of content that is working in your competitor's social media, both locally and globally. Remember to always stay true to your brand's purpose and story because consumers connect well to brands that are authentic. Also, avoid posting poor quality images as this is an indication of the quality of your brand.
Be consistent
Have a clear strategy outlining of how often you plan to post on each social media platform. Strive to post on the same day at the same time each week, as customers will then know when to expect content from your brand.
Send Us News, Gist, more... to citypeopleng@gmail.com | Twitter: @CitypeopleMagz