•DAYSTAR Pastor, SAM ADEYEMI Explains
It was an atmosphere of joy penultimate weekend when members of Daystar church reunited with their Pastor, Sam Adeyemi who has been away for 3 years. Pastor Sam Adeyemi made a triumphant arrival to the church with his wife, Pastor Nike.
In all the 3 years, Pastor Sam Adeyemi has not been physically present at the Daystar church, he was operating from his base then which was US. It was not initially known to many people then, most especially if you are not a member, but the members and some few people who know him felt his absence.
In 2020, the Pastor and his wife left the church. When the federal government imposed a nationwide lockdown because of the COVID-19 epidemic in 2020, they were on vacation at the time.
The Adeyemis still stayed away from their Nigeria base when the travel ban was lifted and were doing online services as well as live services with the members. The Oregun church in Lagos typically has the clergy deliver sermons using a pre-recorded message that is shown from a screen. The congregation celebrated as the man of God appeared and assumed leadership of the pulpit penultimate weekend. Pastor Adeyemi and his wife looked good and everyone was excited to see them.
The congregation's excitement about the clergyman's return to his base in Nigeria made them to shout nonstop for a few minutes when they mounted the pulpit.
Though his absence was not too obvious because he has built people who could run the church even if he is not around. He has over 30 pastors in management positions who have passed through his leadership academy school and while some have gone to set up their respective churches, some are still with him controlling all the aspects of the church.
Daystar is a huge church and give it to Pastor Sam, he has invested and sowed seeds of leadership in people. He pastors a vibrant congregation that is always glued to his sermon. Despite his absence in church, during some Sunday services, members listen to his online sermons. The church is always filled to the brim.The church is simply running in his absence though he is on top of all that is going on in the church.
Many would wonder what he has gone to US to do all these few years but we gathered he has gone to expand his ministry to raise high impact leaders and transform organizations. Being away for 3 years was a call he had to obey as he explained while on pulpit. He also spoke on how he ran the church for 3 years that he was away. Addressing the congregation, he said,
"To even say that we miss you sounds like an understatement.it was hard not being here on Sundays. Like joke, while we were away, we were like, will it be next month, or the next one and we kept making attempts, but the messages were clear and sharp, everything that we did that brought us here was divine. The big deal was that, people were saying, aah, Daystar, you left Daystar, you relocated, this and that, who in their right mind, will leave something as huge as this to go and do what? When it is not that village people caught up with the person, it was a test of obedience.
"Three years is not a joke ooo, we had a scenerio where people were asking questions, where is your pastor, has your pastor Japa? I got the questions as well and frantically every week, on social media, people send me that question, that sir, is it true that you have japa? Well from our view point , it was a test of obedience. It is easy to read the stories of the people in the Bible, the heroes of faith we call them, but to live the kind of lives they lived, walking in convenant with God and obeying when it is easy and when it is difficult. that obeying is the one that is not easy. Because we had to ask God, he said go and read, Hebrews 11, and check the life that they lived, from Abraham to Noah, which of it was easy? Leave your country and go to where he will show you. At this point I felt like explaining , I felt like releasing press statement, because people were just manufacturing their own narratives. It was simply a test of obedience and we are grateful to God, he brought us through it. I will not deceive you, it was hard to be away. When God says move, to move when you are successful, move when things are working is a different story. It is hard but move is move because God knows everything. Because when I was there asking God, what is this about? Then those Bible characters began to come alive, unusual instructions and we knew God was going to prove himself. So it was a test of obedience. Pastor Nike and I left Lagos, 24th February, 2020. We had tickets to be back 2 weeks later in Lagos, we had events and of course the covid scenerio started then the reasonable thing for anybody to do was to stay with their family. Then we made that option, even if we were here, there was lockdown. We were not going to see anybody anyway so it ran like that. It was when we resumed physical service that it was time to come back that the hard stops, strong messages came, strong indisputable messages. I have told people that December last month was 40 years that I gave my life to Christ and saviour as a teenager, I can not hear God now and pretend I did not, I will answer for it on the last day, the day I stand before him. We got here by hearing God, the big concern for everybody was like, Daystar, Daystar, how can you leave your church like that? What is going to happen to Daystar, and you know Daystar has more members than the people that attend services here. We have many non members members, in other words, we have people that love us and people that feed from here. We have a lot of people, so everybody was concerned for us.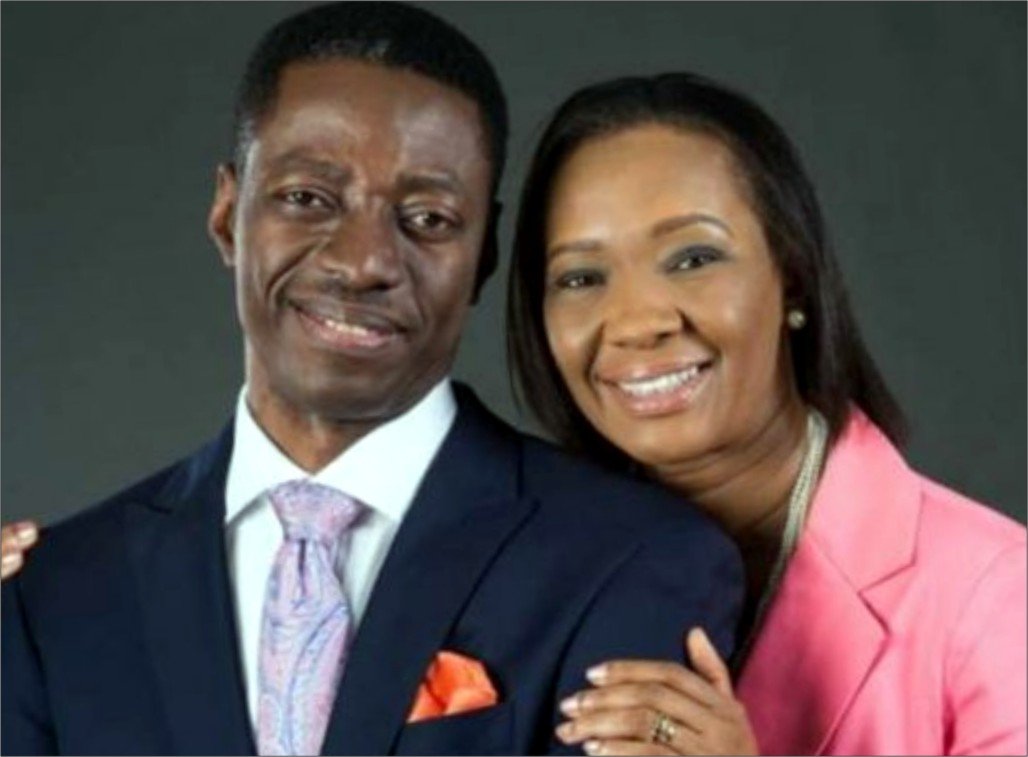 Many questions, sometimes we will even want to answer people, then you see another story going viral that was a complete lie and we said we wanted to release press statement, holyspirit was saying, what do I want to say? One day he said to me, do you want to explain what even you don't understand? And I was like it is true ooo, he said you want to turn a revelation to an explanation, he said you better keep quiet. So at some point, one day, he said to me, when we had this rush of revelations, when Pastor Nike had a dream and I said this dream, I don't like it, it is a bad dream. Then few days later, I had mine and it was 2 dreams in one night which has never happened to me before and they all had to do with coming here and the holyspirit saying don't move, so that was when I said, holy spirit, you have to give me scriptures, I have to get this clear. The scriptures he gave me were Acts 3 and John 12:24, and I understood it and took it as a redirection, that there is something he wants to use Daystar to do. There are new dimensions he wants to move us to. Then John 12 : 24 came but I have been teaching re-invention in my leadership classes especially strategic leadership. Most people get trapped at a level of success because they are not willing to to shift to the next level. Why do people get stranded, because dieing is not easy, people don't want to die. Your current state needs to die for your new stage to evolve. Even Daystar could not have gotten to this point without reinvention. At different points, we had to die at a level and translate to another one. So he said this is another one, and I said fine. How many churches can their founders or pastors leave for 2 years, and the churches will still be alive without breaking up? God says pay attention to what I am doing, and the foundation was laid years ago, pay attention, Daystar is a model church and I am giving you what you will be teaching for years to come and then I realized that is it not a blessing that in my life time, I can be away physically for 3 years and the system is still running, it is a blessing from God. Finally the holy spirit helped us to appreciate that it is a new dimension to leadership. What God made us realize was that we were away physically but we were not away, the efficiency of technology helped us during Covid. We were here and preaching every Sunday, last Sunday we preached live, during 31st December, it was also live from Atlanta, leveraging technology. We were running our regular meetings with our management team.we were running operations, we were getting reports every week like we normally did on Mondays for years. I will get report, attendance of human beings, and cars and everything. Financial report, everything was running normally. There was a period shortly after lockdown that we were having meetings almost every week for 7 months. We went through every part of Daystar changing the operations into hybrid and we came up with a document, the Daystar re-invention strategy. That is what we were working on. We wake up early in the morning, 6 hours time difference from Atlanta, and the e-mail is already full, it is Nigerian issues we deal with first thing first. Till it's almost closing time in Nigeria, we were fully engaged. We saw that God was moving us ahead like it does to Daystar because we are a pioneer church. A magazine interviewed me in the US and it will be released in 2 weeks. That was what they were interested in, that I have been away for 3 years and how did I build the church? What are you doing that the church is doing well? I said, systems, people. So on the cover, I am there, and they titled it, The Remote Control, Sam Adeyemi's lessons in long distance leadership. So whatever it is that it looks like it was a bad thing, God is using it to introduce you to a new model. I have good people, so yesterday it was a great joy to meet with all of you. We are proud of you, we are grateful to God for our pastors, your commitment is unparalleled. We thank God that while we are away, the church is still standing.Thank you everyone. For us to be able to show up here on a Sunday morning, it is a blessing from God, this time last Sunday, we did not know yet that we are coming, the decision was made in the night. Finally on Sunday, we prayed and felt we have a window now because everything was already planned. We had schedules, this month we still have a total of 4 countries to visit but we think the season has changed, and God worked everything perfectly so we were grateful to God for everything. We went through Covid, our church went through a remarkable experience, in 3 years, here we are.Thank you".
– TAYO OYEDIJI
(08111811219)
Send Us News, Gist, more... to citypeopleng@gmail.com | Twitter: @CitypeopleMagz