•Otunba SUBOMI BALOGUN Reveals
Pillars of the high society honoured former Ogun Governor, Otunba Gbenga Daniel in Lagos months ago when his son , Adebola got married to his beau, Morenike at a classy wedding. It was a memorable day for Otunba Daniel, and his wife, Yeye Olufunke Daniel, as many came all the way to celebrate in their joy.
The event was held at the Marriot Hotel, GRA Ikeja. The talk-of-the-town event which kicked off in the morning and was chaired by the Czar of the financial sector and Chairman of FCMB Group, Otunba Subomi Balogun. The event had in attendance some prominent Nigerians who have been friends of the Daniels in different sectors.
That Otunba Gbenga Daniel dragged Otunba Subomi Balogun to Lagos was suprising to many people because ever since COVID broke out in year 2020, Otunba Subomi Balogun has been in faraway London enjoying his amazing age at 88 with his wife, some of his children and grandchildren. Otunba Subomi Balogun has really aged gracefully and he was looking so good at the wedding.
Generally referred to as the Grandmaster for his pioneering role in the financial sector, Otunba Subomi Balogun stormed the wedding at the reception proper with his wife of many years, Olori Abimbola Balogun who is in her 70s, Looking at them, one can see that their marriage is worthy of emulation, No wonder, he was the chairman at OGD's son's wedding.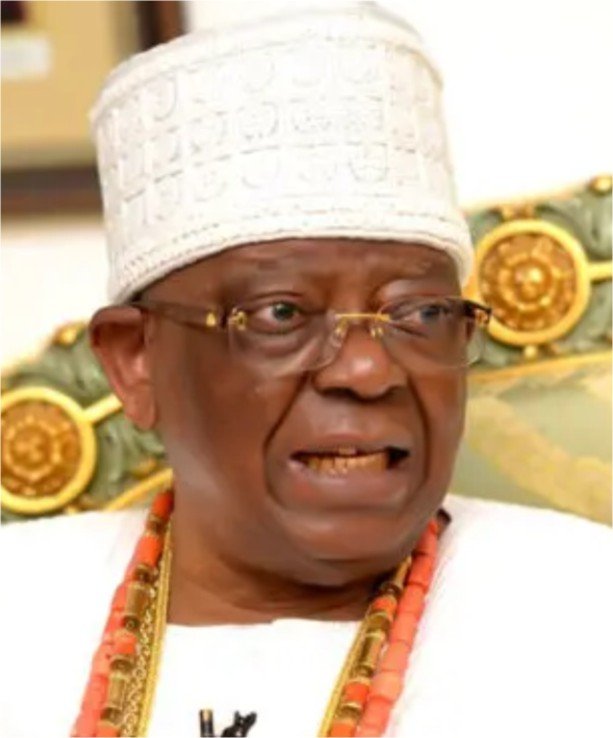 What could have been the reason OGD was able to drag Otunba Subomi Balogun all the way to Lagos to just chair his son's wedding? This was one of the questions on the lips of many people because it has been a while Otunba Subomi stepped out at any Owambe in recent times. Since Otunba Subomi is one of the grand masters of Nigeria's social establishment and a regular feature at many A.list events in the country.
In his speech, he explained his father-son relationship with OGD, how their paths crossed many years back and how OGD took him as his godfather and inturn he also took him as his godson.
In the remarks of the chairman of the occasion. He congratulated the couple for finding love and counseled them to keep the fire of love burning. Then he congratulated the father of the groom, OGD saying their relationship has blossomed over the years into a great and admirable one. He took the guests down memory lane, how his path with Otunba Gbenga Daniel crossed. He spoke about how OGD came to meet him in the office close to 20-years-ago even before he became the governor, how he sought his expertise and since then he took him as a godson, and he also sees him as his godfather. He also mentioned that it can only take someone who is very close to him to drag him to Nigeria all the way from UK for close to 2 years that he has been away, he disclosed that he hesitated not to be the chairman of the occasion when Otunba Gbenga Daniel requested that he was supposed to be the grandfather of the day but he later agreed to OGD's request because he is also his son. He then wished the couple well and prayed for them. Below is the short emotional speech made by the Chairman of the event, Otunba Subomi.
"Bear with me to tell you a story which you may be familiar with. About 20 something years ago, a young smart man, he was not yet an Otunba then, walked into my office, after he had been introduced by my personal assistant and he said he was adopting me as his father. He was not yet the governor of Ogun State and when he became the governor, one of the first events he attended was the wedding of one of my sons, and he did not have any worry to tell everybody who cared to listen that he is the head of the family. That, he is the eldest child of mine. That is why however inconvenient it may be for me, when Otunba Gbenga calls me for anything. I will definitely do it for him. My dear son, I am happy to acknowledge this that there is hardly anything you will request me to do that I will not do. Olori, my wife here, knows my feelings about anything that has to do with Gbenga Daniel. I have one emotional occasion, his late Papa, even acknowledged me as Gbenga's father, I could not have had a greater honour and at the wedding of one of my sons, he let everybody in the place know that he is the first child of my family and I will always acknowledge it, So whatever I may be doing, whatever pre-occupation I may have,if Otunba Gbenga Daniel asks me to come, I will jump and do whatever he wants."
"Many people know about our relationship, even though I was not surprised when he said I should be the chairman of today's occassion. I told him that I should be sitting as the father of the family and receive not only our inlaws but also to be the first to bless the bride and the bridegroom."
"Ladies and gentlemen I have to tell you this story because quite a number of you know I have been away for a while and came back with my wife barely a month ago and I was not getting ready for such a big event, but Otunba Gbenga is a royalty himself so if he now calls me the Olori Omo Oba of Ijebu to come and do something, I can never say no."
"This is a particularly joyous occasion for me and all of us here and as a father myself, nothing could give someone a greater joy. As my son, Otunba Gbenga Daniel confides in me a lot and I think he is taking so many things from me. I also noticed that he is the Asiwaju Onigbagbo of Remo, that was after the whole of Ijebu made me the Asiwaju Onigbagbo, I have to tell you this story, because a lot of people came around to say hello to me, and said, Uncle, we did not know you are back. I said I have to be back for this event."
"Join me in praying for the couple that this marriage will be blessed, join me in wishing them that all the best that the good Lord will give to married couples. The bridegroom must be very pleased that in spite of my initial reluctance I am so happy to be doing what I am doing and I will say it to all father's that they should be praying for this kind of event in your life if you have not already have one, today is a day of prayers and appreciation to the almighty God".
This event was not the only place where OGD and Otunba Subomi Balogun's relationship will be obvious, it has been recurring for years. There is no birthday thanksgiving of Otunba Subomi Balogun that OGD will not attend and vice versa. Infact, in some cases, Otunba Gbenga Daniel always makes speeches about their closeness and same with Otunba Subomi.
Otunba Michael Olasubomi Balogun, the Olori Omooba and Asiwaju Onigbagbo of Ijebuland, has once described former Governor of Ogun State, Otunba Gbenga Daniel, as his "beloved son" and an integral part of the Subomi family. He stated this at the Annual Visitation Thanksgiving Service organised by the Christian Association of Nigeria, Ijebu Area at the Otunba Tunwase Court few years back. Speaking glowingly of Otunba Daniel as a good natured personality, Otunba Subomi said the relationship between them was like that of "father and son".
He said: "He is such a quintessential personality who I have known ever before he became the governor and the relationship is still waxing stronger till date. "He is my beloved son. "I am always happy seeing him by my side at any occasion and I pray that God will continue to be with him in all his ways."
Otunba Gbenga Daniel also once noted during Otunba Subomi's thanksgiving service that Otunba Balogun is a great mentor and father figure who inspired many with his selflessness, humility, simplicity and sincerity.
He said: "We shall continue to thank God for his life and all the good things God has used him to do for the community and the country in general."
At the wedding, Otunba stayed for many hours, chairing the occasion and was serenaded with many pleasantries from important personalities who have not seen him in a long time. Otunba and his wife truly enjoyed their stay at the wedding.
-TAYO OYEDIJI
(08111811219)
Send Us News, Gist, more... to citypeopleng@gmail.com | Twitter: @CitypeopleMagz