The Presidential election which produced All Progressives Congress APC, Asiwaju Bola Ahmed Tinubu as President-elect may have come and gone but its after effect still reverberates around the activities of the major players, especially those who were supposed to have helped Asiwaju win election in their home states. For Rivers State born former Governor and Minister of Transportations Chibuike Rotimi Amaechi who contested for the APC presidential primary elections and came second behind Asiwaju Bola Ahmed Tinubu, being the leader of APC in Rivers State, it was expected that Chibuike Rotimi Amaechi ought to have been at the center stage in leading the Presidential campaign in Rivers State but he was never active. In fact he never participated at all apart from travelling to Yola Adamawa State with the Presidential Campaign train. While at Yola Amaechi never wore Asiwaju Presidential campaign cloths with emboldened inscription and pictures of Bola Ahmed Tinubu but he wore clothes signifying governorship candidate of APC a Senator Hajiya Binani Baba Riga flowing dress and putting on his Dan Amana Daura traditional turbaned head gear.  
The question on the lips of many political analysts include why Amaechi is angry with Asiwaju Bola Ahmed Tinubu? And why did Amaechi not make an appearance at the Rivers State February 15th, 2023 Presidential Campaign rally? Why didn't Amaechi accompany the APC Presidential candidate to pay a courtesy visit to Government House Port Harcourt?
For the records, Chibuike Rotimi Amaechi since 2015 when he failed to have an All Progressives Congress APC, Dr. Dakuku Adol Peterside realize his governorship ambition in Rivers State signified the beginning of trouble for Amaechi and some members of his political team. There have been several probes on sales of government properties with Gas turbine electricity plants all sold to Sahara energies then owned by Tonye Cole as the Chairman of the company. Today both Amaechi and Tonye Cole have been dragged to Port Harcourt High Court over criminal charges of allegedly selling government electricity plants. And having been dragged to court and publicly cajoled by Governor Nyesom Ezebunwo Wike who at every political and non-political event lampoons His Excellency Chibuike Rotimi Amaechi.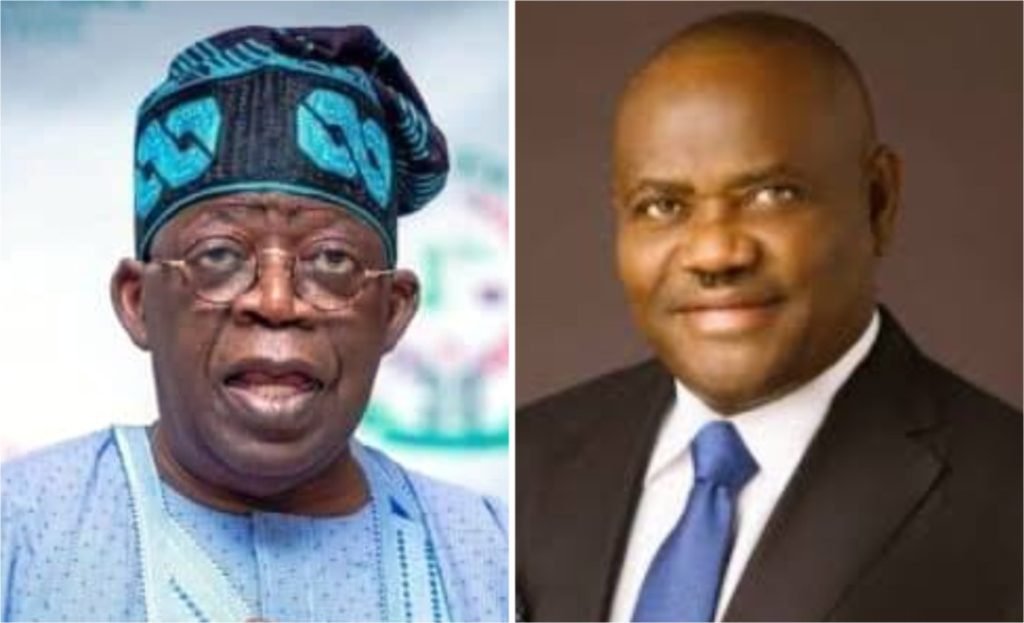 It was this alleged wrong doing that angered Amaechi and his political followers from the All Progressives Congress-APC mainstream faction in Rivers State not to join Asiwaju Bola Ahmed Tinubu's Presidential Campaign since it was made open that Nyesom Wike was politically romancing with Asiwaju Bola Ahmed Tinubu for the 2023 Presidential election.
Based on reliable political intelligence gathered by Amaechi's APC faction in Rivers State with the invitation of South-West governors and other APC Lawmakers such as Speaker Federal House of Representatives Femi Gbajabiamila, Lagos state Governor Babajide Sanwo Olu who all came to Rivers State to Commission projects truly angered Chibuike Rotimi Amaechi. In the face of all these Amaechi's former Chief of Staff, Chief Tony Okocha leader of BATSV Vanguard in Rivers State politically romancing with Wike and having Senator Magnus Ngei Abe APC FREEDOM HOUSE led faction divided Rivers State APC and all the twist and turns made Chibuike Rotimi Amaechi's 2019 APC candidates not to have been on the ballot papers that year due to Supreme Court's Consent judgment.
Early in 2022 the political division between Amaechi and Asiwaju Bola Ahmed Tinubu got wider after their alliance in 2013 to 2015 Presidential election where Amaechi and Asiwaju Bola Ahmed Tinubu used United States of America Political Consultant David Axelrod who in 2008 consulted for President Barack's Obama's electoral victory. That political alliance with President-elect Senator Bola Ahmed Tinubu and Amaechi no longer resonates with vigour and how the incoming APC administration of Asiwaju Bola Ahmed Tinubu will carry along the AMAECHI political allies will determine how beneficial both politicians will be the common good of All Progressives Congress (APC) in Rivers State.
-Emeka Amaefula
+234(0)8111813069
Send Us News, Gist, more... to citypeopleng@gmail.com | Twitter: @CitypeopleMagz