Dr. Victor Olaiya qualifies to be called a legend, thanks to his music career. His highlife genre of music made great impact in the past, it is currently rocking the present, with promises of a greater hold on the future. At 86, the celebrated highlife maestro still pulls the crowd at his periodic live performances.
Olaiya was born on 31 December 1930, in Calabar, Cross River State, the 20th child of a family of 24. His parents, Alfred Omolona Olaiya and Bathsheba Owolabi Motajo, came from Ijesha-Ishu in Ekiti State. Olaiya came from a very rich family. His father's house called IlÍijÍs Bar stood on 2 Bamgbose Street, Lagos Island, until it was demolished on September 11, 2016. At an early age, he learned to play the Bombardon and the French Horn. After leaving school he moved to Lagos, where he passed the school certificate examination in 1951 and was accepted by Howard University, US, to study civil engineering. Olaiya instead pursued a career as a musician, to the disapproval of his parents. He played with the Sammy Akpabot Band, was leader and trumpeter for the Old Lagos City Orchestra and joined the Bobby Benson Jam Session Orchestra.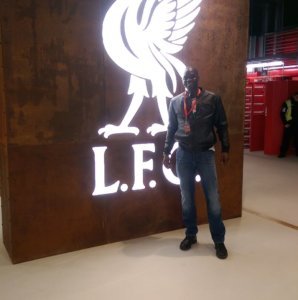 In 1954 Olaiya formed his own band, the Cool Cats, playing popular highlife music. His band was chosen to play at the state ball when Queen Elizabeth II of the United Kingdom visited Nigeria in 1956, and later to play at the state balls when Nigeria became independent in 1960 and when Nigeria became a republic in 1963. On the latter occasion, Olaiya shared the stage with the American jazz musician Louis Armstrong. During the Nigerian Civil War of 1967–70, Olaiya was given the rank of a lieutenant colonel (honorary) in the Nigerian army and his band played for the troops at various locations. The Cool Cats later travelled to the Congo to perform for United Nations troops.
Olaiya renamed his band to the All Stars Band when they played the 1963 International Jazz Festival in Czechoslovakia.
Olaiya also ran a business that imported and distributed musical instruments and accessories throughout West Africa, and established the Stadium Hotel in Surulere.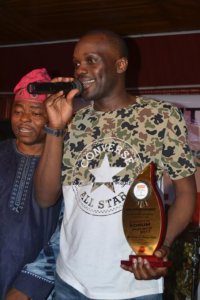 In 1990, Olaiya received a fellowship of the Institute of Administrative Management of Nigeria. For a period, he was also president of the Nigerian Union of Musicians.
Olaiya married many wives. He has children and grandchildren. One of his daughters is the popular actress,Moji Olaiya.
One thing that stood Dr. Victor Olaiya out with his family was the way he was able to handle all his wives and children. He married a lot of women and also sang about them. These songs which he dedicated to each of his wives became hit songs. When asked why he sings about his wives, the "Evil Genius" replied,
"Yes, I sing about all of them because the attraction has been musical so I had to compose in favour of each one of my wives. For Tokunbo, I sang 'Biola omo dudu Tokunbo.' For Funmi, I sang Ife. For Victoria Abimbola Olaiya, another of my wife, who is the daughter of late Olowo of Owo, Adebunmi, I composed Jojoro and for another of my wives, I composed Omo pupa and so on."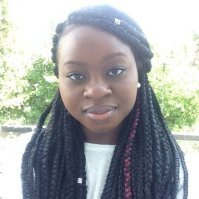 Victor Olaiya also ensured that his Children all learnt the musical instrument, at least one of it. It was a family mandate from him. But some of his kids decided to take music as a part time job as well as a hobby. Bayode Olaiya is the most successful musician in the family after his father. The young and vibrant son of Victor Olaiya is a banker with a leading new generational Bank in Nigeria, Guaranty Trust Bank to be precise. Bayode Olaiya plays the trumpet and leads the band at the club and on outside social engagements when his father his unavailable. Bayode has played with his father and his band for some years now and he has been able to gather much fame and popularity to himself with his father's influence being the only one out of his siblings who is a member of the band.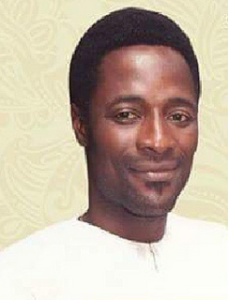 Furthermore, Victor Olaiya swerved a question on how many kids he has but rather went further to reveal those who are also into music part-time and play at different functions during the weekend or weekdays night as their schedule permit. The maestro said, "Our culture does not allow a revelation of the number of one's children. But permit me to say that I have Victoria Yejide Olaiya, she plays the piano; Bayode Olaiya plays the trumpet and leads the band at the club and on outside social engagements when I am not around. We have Biodun Olaiya, an engineer with an oil company and she plays the trumpet as well as the piano; Elizabeth Oluwatoba Olaiya, she plays the guitar as well as sings. She works with an American oil company."
Victor Olaiya also revealed that he lost a son to an enlarged heart in 2015. The Highlife king said, "I recently lost a son, he was Alfred Abidemi Olaiya. He played tenor saxophone. The autopsy disclosed that he had a large heart over the years, and usually those who have enlarged heart like that, do not fall sick, they just fall off like that. I can recall that he was never sick, but that is it, we lost him. As providence will have it, he slept and at midnight, he went off. He used to play basketball, swims, plays music and used to play with 'The Chapel of The Healing Cross' band, his church choir. That is the church that they attended with their mother, while I attend African Church Cathedral at Lagos Island. He was a staunch member of the church and used to lead the church choir."
Flashback to 2012 when the legend celebrated his 60th year on Stage. It was a mega surprise towards the end of the show when the celebrant's children all took to the stage to perform some of their father's songs as requested by the audience. Led by Bayode Olaiya, the other children who performed in different capacities like drums, trumpets, and others, include Dupe Olaiya, Toba Olaiya, Yejide Olaiya, Bidemi Olaiya and Biodun Olaiya.
There is no doubting when the Highlife maestro said, "music runs naturally in the Olaiya family"
-By DANIJI EMMANUEL
Send Us News, Gist, more... to citypeopleng@gmail.com | Twitter: @CitypeopleMagz