Abeokuta Aso-oke Queen & Event Planner, Adebare Abiodun Christiana Opens Up
This is the story of a beautiful lady in Abeokuta who is doing so well in her business. She is a Fabric Merchant. She sells good quality, Aso Oke. She does make-up also. And she organises events for her clients. She styles up chieftains and royalty, and clothes socialites. The CEO of New U Concepts bares it all in this interview with Busayo Majekodunmi of City People.
Kindly tell us a bit about yourself, you background and growing up?
I'm Adebara Abiodun Christiana (nee Kehinde), born in Lagos, but grew up in Ijebu-ode. I'm from Ogun state, Ijebu-Igbo to be precise. I'm the first of six children and the only girl. My dad is late but my mum is still very much agile. I attended Ansarudeen primary school Ijebu-Ode, Our Lady of Apostle Ijebu-ode, then proceeded to Moshood Abiola Polytechnic Abeokuta. I got a job in Oceanic bank, then went further to Olabisi Onabanjo to pursue a degree in Mass Communication.
What year did you venture into this business, and what led you to it?
I started as a Make-up artist, way before make-up artistry became an every household thing. I started the craft in MAPOLY. I remember back then my lecturers would usually make a joke that I wasn't meant to be in school. They kept advising that I should open a beauty salon. So I'll say beautifying people has always been an inbuilt thing. Even as a banker, people always beg that I do it for them(mind you I used to do it at no cost and out of goodwill). I got really excited whenever I saw the aftereffect of the people I beautified. I would say it was strictly passion. In 2005, I saw an advertisement published in CityPeople Magazine by Kevin Agoro for a 2weeks Make-up training. I attended the training and that was how I became a certified Make-up artist and went into it professionally.
Each time I go to make a bride up, I would always go with designs and appliques to spice up the Aso-oke or Gele(at no extra cost). The first opportunity came in 2006, when my aunt was getting married and she had an accident that rendered her incapable of runnng around, she delegated the whole moving around to me, I designed the asooke and that was my Breaking point. So my Aso-oke came into form in 2007. I made sure I gave choice patterns to my weavers by changing certain things in the mix of my thread, the loading, the length, the width and I also made use of lurex much, which surely raised the quality of my designed Aso-oke. I was also into bead-making and Jewelry sales.
How has the journey been so far combining with family life?
You know when you are doing something you have passion for, at times the physical and mental stress will get you discouraged, but i draw my strength and inspiration from seeing people beautiful and happy and I'll say it doesn't affect my relationship with family, because i always create family time notwithstanding.
The general belief is that one needs to get to Iseyin to get quality Aso-oke, what's your view ?
People think that because the name is "Aso-oke", it simply means you have to get to ilu-oke to purchase the good ones, contrary to that opinion, there are a lot of places to get good weavers.Even here in Sango, we have Ghanaians, Senegalese who weave Aso-oke professionally. Weaving is not just a craft for people in the village or illeterates, we have Elites also doing it.
How significant is Aso-oke weaving to Yoruba culture, and can it be eradicated?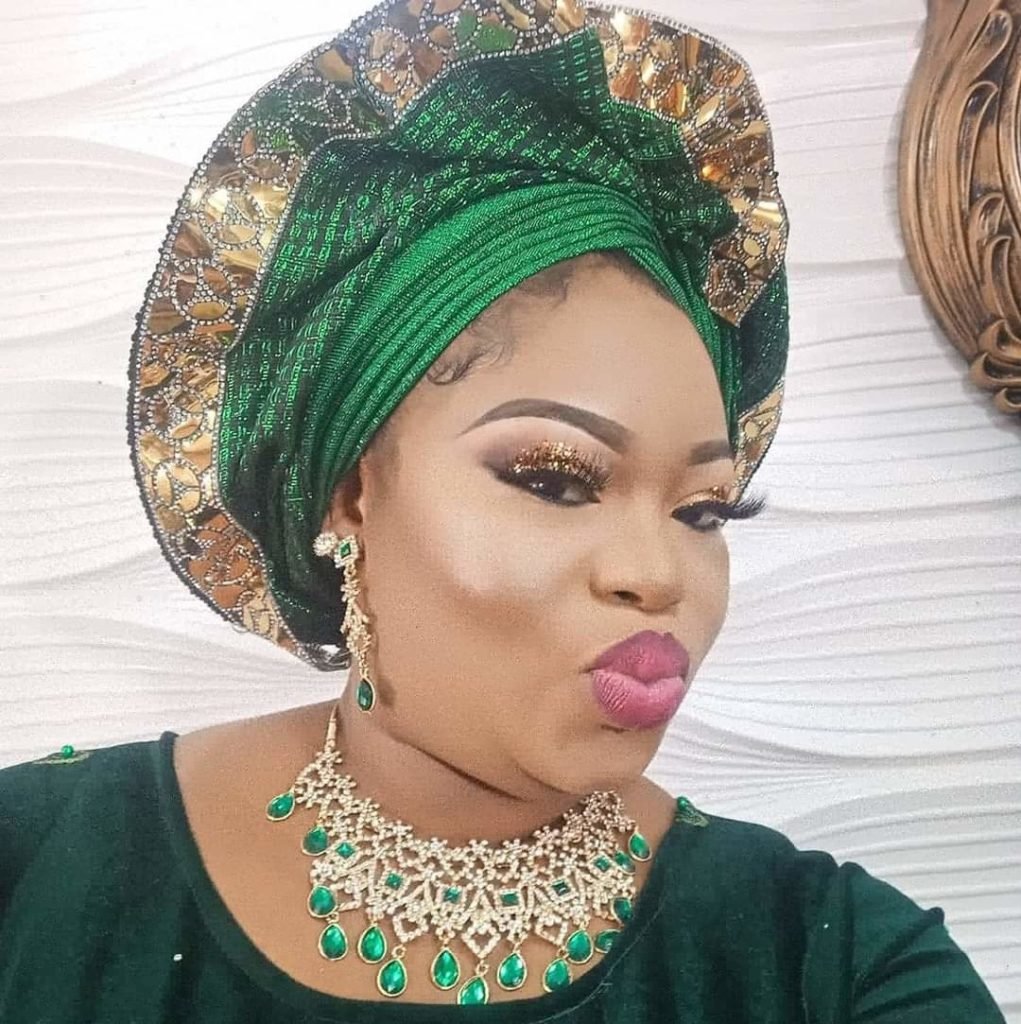 Aso-oke can never be eradicated, its our heritage. The Aso-oke can't be taken off our culture, it's been on for long and isn't dying soon.
Is there prospect for export in this Aso-oke business?
Oh yes! I do export a lot. Before people emabraced New-U Concept in Nigeria, it was firstly well accepted Abroad.
So what ratio are your customers abroad to your customers here?
I'll say 70:30, because we get a bulk of our customers from Referrals.Also because we tag our Aso-oke, people tend to pick up our number from there to give us appraisals and that way our brand keeps expanding and expanding.
Does your business cater to just Celebrities and Top bodies or can Average Income earners also have a taste of your collections?
It cuts accross each and everyone.Even some celebrities don't purchase grade-one Aso-oke, but then you will see some Average earners who are willing to spend any amount of money to get what they want and to look good. My product is made available for different class of people.
Can you briefly tell our readers about the latest Aso-oke in Vogue?
Like i usually tell my customers, there is no latest Aso-oke and there is no Old Aso-oke.You can see the old vintage ones are coming back. We have varieties such as Onjàwú (the perforated one), two-tone, sànáwólé, kente, Sogé, Ètu, Alari, Sanyan…so many more.
You are also into Event planning I can see from your name. When did this kickoff and why did you decide to go into event planning?
I registered as an event planner, a make-up artist, Aso-oke and fabric distributor. I ventured into event planning casually in 2003 because i discovered my enthusiasm for satisfying people even at events where I'm just an invited guest.
Been an hyperactive person, i couldn't sit for too long, I'll often times go round asking people if they are comfortable.Even as a banker,my co-workers will not attend events without me been present because i was that one who looked out for
everyone. I remember my boss advising me to resign and face it squarely (giggles) I even dabbled into been a personal shopper for people at some point. Alot of people don't know I'm into event planning professionally, because I've kept it low-key over the years, even some of my friends and families complain about that. In the past i did it free and out of goodwill, it gave me so much joy seeing people have a stress-free event. I also love to make little amount spent look so much. I officially kicked off in 2016. That is after 10years of doing it at zero cost for people and I've successfully planned and executed quite alot of events since then.
We have noticed you are also a woman of style, what are your beauty tips? what is the secret to your good looks? How do you relax?
(laughs) Ahhh i pray ooo. I have a beauty routine but i don't follow it. I'm not so good at keeping details of all that.Infact i procastinate alot, but i will say I've enough sleep. I work late into the early morning because of my foreign clients. Then i sleep till about 10am. I really do not have a relaxation spot, i rest at home except the need comes up for me to attend an event or go out with my husband.
How did you come up with the name "New-U concept"?
It came about when I try to sell myself to prospective clients, I'll often time say "you will see a New U when I'm done with you". So everyone started New-U.
When it was time to register my business name with CAC in 2017, I picked 3 names and the New-U concept was the first on the list, and to God's glory it was accepted and registered, and by God's grace, it has come to stay.
How many people are in your employ?

30+
Q What's your advice to people who want to start this business?
The primary reason for starting any business is to make profit but you need to be passionate about it oooo (chuckles) because this Aso-oke business can kill oooo.There are so many uncertainties that can't be controlled in this business, from weavers trying to mess up your standard, to tailors making mistakes. Sometimes i cry all day because i cherish and value my customers alot and i don't want anything to tarnish my long built integrity. I even bare a lot of losses from using my money to replace goods.There is also the high cost of production, ranging from generator maintenance, fueling, machines servicing and repair. Even some customers delay payments for as long as 13-15 months, after delivery and a very wide range of both healthy and unhealthy competitors.
Those are just few of the challenges we face.So there is a need for you to develop Passion for it before going into this business or any other.
Having stated those numerous challenges above will you prefer to go back to your 9-5 job ot stick to this?
I will always choose this business because i have my time, and i can decide when to work and when not to work, because I've able hands always on deck.
Above all this is what i love and i don't struggle with it.
Send Us News, Gist, more... to citypeopleng@gmail.com | Twitter: @CitypeopleMagz