Baba'nla is a musical concert host by Omolara Piccolo. Omolara Piccolo is AN award winning gospel singer, song writer, music producer,event planner and an entertainer,this year's Baba'nla is season 7, meaning the 7th edition and the theme is shout for Joy.
The venue was Haqma Hall and Event Centre, 1/2 Peak Thomas Bright Crescent end of AIT Road ,Alagbado Lagos. City People 's Reporter TITILOPE OSHUNLALU was there and bring you gist of what went down at the event enjoy…
The event started with red carpet by 10am on Wednesday,23rd November,2022 with praises and performances from different gospel singers,the hall was well decorated with green and white colour,guest were seated with white colour code. The host, Omolara Piccolo was also on a lovely white gown to match with her band group.
The MC of the day was popular veteran Yoruba broadcaster and Assistant General Manager of Fresh FM Lagos, Ifakaleluyah of 105.3fm ,and MC Abbey, the father of the day was His Royal Majesty Oba Dr. Adewunmi Adetoro ( Onibudo of Budo Adeniji Apata 1) spiritual father of the day was Most Snr Apostle Olusola Kehinde Obube.
World famous artists King Segun Daramola Ajidara was also in attendance, as he brought down Gods glory in his praises at the event. Lanre Teriba Atorise was also in attendance ,the moment Atorise mounted the stage,trust me, there was a change of praise in the hall.
Atorise came directly from the airport to honour Gods glory in the life of the host Omolara Piccolo,who many described as most humble gospel artist,there was an adage that says in Yoruba,Egun nla lon ke yin igba, meaning,the big masquerade was the one that performed last (Atorise) and he did justice to round up this year's Baba'nla season 7 musical concert by Omolara Piccolo. Can we also inform you about the Yoruba Nollywood actress & Chanter, Ayo Ewebiyi popularly known as (Mama Oriki) she did justice to praising God in Yoruba dialect.
The followings were dignitaries and artists present: Oba Dr. Adewunmi Adetoro,Bishop Falana,Pastor Odelola,Most Snr. Apostle Olusola Kehinde Ogunbiyi,Daddy Obube,Hon. Femi Ayodele ,from AIT Daar Communication,Evg. Funke Bolarinwa from Faaji from 106.5 Fm, Prophetess Bolanle Talologo, Prophetess Kemi Ayorinde, Lady Evg. Esther Balogun, Ajaoba Funmi, Iya Afin Omolara, Aderinto, Mrs Adenike Iyayin, Prophetess Olusola Afeni, MC Irawo, Mr Lekan Oni, Kemi Oni, Apostle Kehinde Obube from Dublin, Prophetess Kemi Ayorinde, King Segun Daramola Ajidara,Dr. Lanre Teriba Atorise, Abbey Sax, Hephzibah band juju gospel, Pastor Odelola, Oba Adeyinka Adewoye of Owuro Lawa, SEBI oba twins, Ayo Ewebiyi and daughter, Evg. Solomon, MC Abbey Odunlami, MC Yomi Abdul Matee Ifakaleluyah,C&S student fellowship (Ilaro) Abiodun Olayiwola,Oba Aloyinpa and crew, Taiwo Ojodu, Nike Elegbede, Bukola Fakaji, Bisola, Oyinbo Olofada, Venerable Akafo, Venerable Ogunrinde, Balogun Abiodun, Joshua Ogundiran, Yaya gospel band, Mr Babatunde Adeoba,Olufemi Oluyide, Engr Opeyemi Smart Oki, Prophetess Isu Emi, Evang Tope Agogo, Eri, Prestige media event planner, Felix Senior, Bukola Packaging,
There was also award session,awards was presented to the people who deserves the award.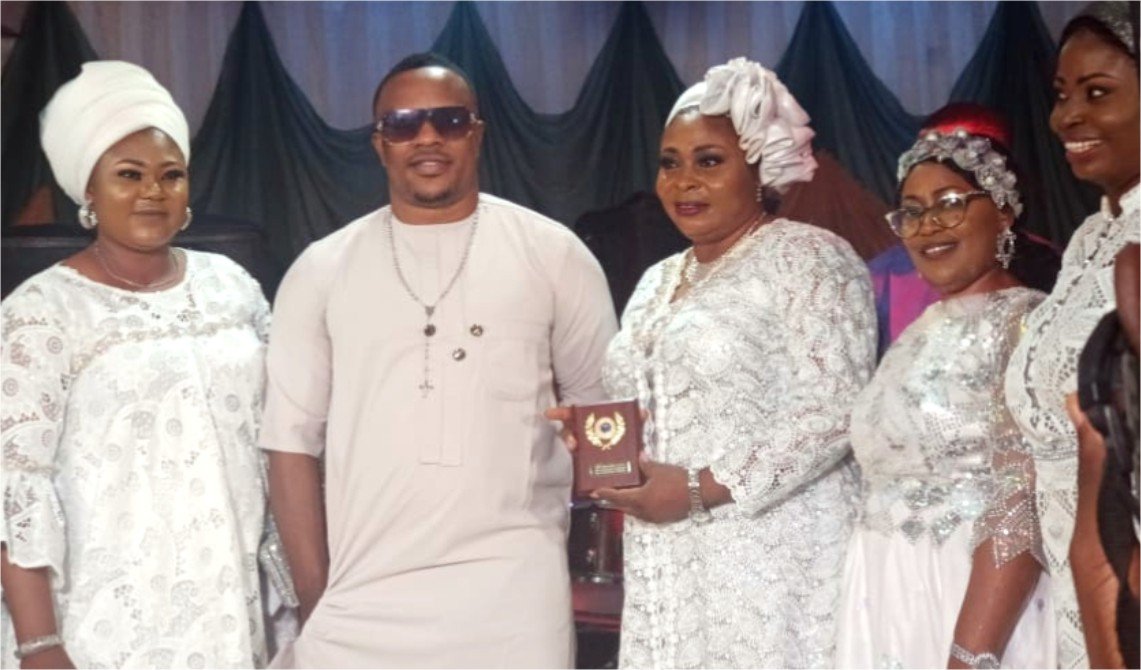 Send Us News, Gist, more... to citypeopleng@gmail.com | Twitter: @CitypeopleMagz