•READ What He Told Us During The Visit
Last week, City People paid an unscheduled visit to the Ooni of Ife, Oba Adeyeye Enitan Ogunwusi. He is the 51st Ooni of Ife. We had gone to visit him along with Prophetess Mary Olubori. We wanted Kabiyeesi to tell us a lot more about the woman many call Iya Emi. He was talking about this woman of God when the Ooni veered into talking about City People and its Publisher, Seye Kehinde. He told the City People team led by the Publisher, his impressions of the 25-year-old celebrity magazine.
"Please listen to me. I have been meaning to tell you, all these days, that you deserve a lot of commendations. City People has remained relevant in the last 25 years. You have been doing well. The Grace upon you is very powerful. The name Seye Kehinde has been relevant for decades and it will continue to remain relevant forever".
"The name has been consistent over the last 20 years. So many have brought out papers like yours to compete with you and where are they today? They are gone."
"They have all died. It is God. It is God's doing. It is not by your power or might. Ki le fi se ori ni odo Olorun? God has blessed you and he will continue to bless you. You have become a household name. I will continue to pray for you because you are very Humble. Don't change your ways. I like your Humility. I like your style."
"I have been wanting to tell you this for a long time. I didn't know you were coming today. Don't change your ways. There is something about you that God likes. You will continue to be relevant".
"You will continue to be appreciated. Amen. As I see you, you are a very contented person. That is a great virtue. Continue to follow that path. Be a mystery to others. Continue to be a mystery. How you are doing it and surviving it and sustaining the brand in the era of social media will continue to be a mystery to everyone. God has been wonderful to you. I can see that. And I know it. So, keep it up. I have been wanting to tell you this. I have been wanting to write you a letter. I saw the opportunity today. I want you to write it down yourself, all these things I said about you. I want you to celebrate yourself".
"You deserve to be celebrated. You deserve to also celebrate yourself. I give you that permission to tell the whole world what I have said about you and how I feel about you. Write about it because you write about others, you celebrate others, but nobody celebrates Seye Kehinde, nobody writes about Seye Kehinde, nobody writes about City People. I am giving you that permission to tell the whole world that the Ooni appreciates Seye Kehinde & City People. As the Spiritual Head of the Yoruba race, I say you are wonderful. City People is a big brand.
"Many people look up to you, but you don't know. Many people look up to your weekly magazine".
"I know that your weekly soft-sell magazine gives many people HOPE. They want to read about other people. They want to read about life. You don't know there are a lot of people whose lives you sustain and those you have helped their sense of reasoning. If not so, so many of them would have gone mad. Quote me. Please tell people I said so. I know what I am saying."
"At least, when you publish this, they will see what I am saying. The days you don't come out early enough they almost lose their senses. I have seen a lot of people who open it like this and read. Some read it online. Some read it like they have exams on it. They open it and digest everything from page one to the end. They like the Gossip. They like to know what is going on. Some are bedridden. They cannot move. They have a lot of money. But they need things like this to continue to keep them going. So, you are doing well."
"You are very relevant in society. God bless you. We are very proud of you as one of the success stories in Yorubaland. You are a true son of Yorubaland. I am very proud of you. Please do something to let a lot of people know about City People & Seye Kehinde. I appreciate you. I appreciate something about you.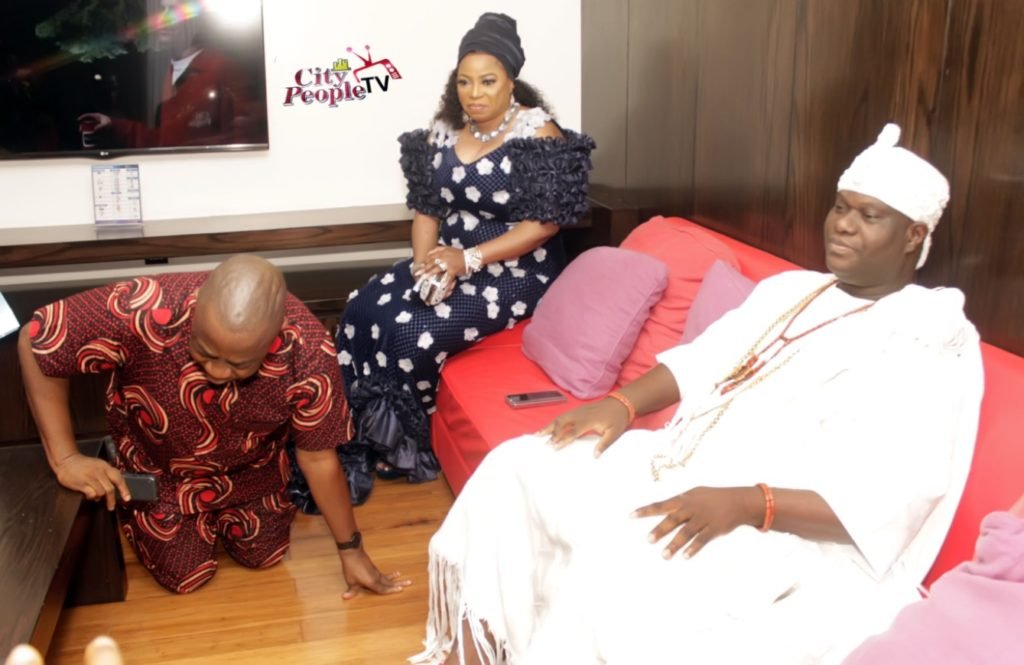 You are a special breed. Keep up the good work. Life is about Spirituality. You must know what God has sent you to this world to do. Your own Calling is to keep making other people happy, through your City People. By reading your paper, they are happy. They read City People page by page, from the beginning to the end."
"God will continue to be with you. God will continue to bless the work of your hand. Everything you want to do will succeed. Please produce a Special edition to praise yourself. Do a special edition to praise City People, celebrate City People, because you deserve it."
"I am the one saying so. Tell them the Ooni has asked you to do so. You have my permission. I give you the go-ahead. You give people awards all the time. But nobody is giving you awards. You deserve to be given awards. You are an achiever. You are an accomplished man."
"We need people to talk about you. We need people to celebrate you. See the high number of lives you have touched. See the huge number of staff whose salaries you pay. It is through your Grace that they are also benefitting. I am praising you. The Ooni is praising you. You have done well. God bless you. Keep it up."
Send Us News, Gist, more... to citypeopleng@gmail.com | Twitter: @CitypeopleMagz