He is very popular in the Bariga area of Lagos. Everyone knows Segun Adefila. He is one of the Art Theatre/Stage practitioners who have succeeded in just a few years to take off many young people from the streets to help them discover the innate talent in them That is Segun Adefila for you. He is a notable actor, dancer, cheoregographer, writer, singer, poet and theatre director who operates from his conclave at 32 Awofodu Street, Off Pedro Road, Bariga.
A few days back, City People stormed his Arts Factory, where he does his thing. He is an artist who is passionate about his craft. He was born and bred on the streets of Bariga. How does he even see himself and his role in the Arts community, we asked him. "I am just an artist. And Art to me is a restless voice screaming to be heard. "That is deep, you'll probably say. But lets quickly tell you more about this brilliant guy who studied Drama from the Centre for Cultural Studies in the University of Lagos in 1997 and later obtained his B.A. (Bachelor of Art) with 2.1 second class upper division in Creative Arts from the same university in 2002.
His first encounter with the arts started from his childhood in his hometown, Omu Aran in Kwara State, where he danced with Masquerades during traditional festivals.
This background has greatly influenced his art as a performance artist, with remarkable awareness of the potency of the arts as an important tool for societal recognition.
He had his training in Theatre Arts with Black Image Theatre Company, after which he became a co-founder and artistic director of the Crown Troupe of Africa with a couple of friends in June 1996.
In this interview with City People Publisher, SEYE KEHINDE, he revealed how his love for art helped him in taking youths off the streets. Every day, a minimum of 70 young people who are Arts inclined gathered at Adefila's Arts Facroty to exhibit their talents
Below are excerpts of the interivew.
How do you see your efforts so far?
Actually, people are saying that I am doing something, but I am just living my life, I am just being me. But in introspect, it has been 27 years of me running this and I don't think it is a bad idea for me to sit back and thank God for making it happen.
We haven't done anything, as far as I am concerned, but I didn't know it will come this far.
When you set out 27 years ago what was the idea?
We were a bunch of young people, who were gifted and we were out of secondary school. We had spent years at home waiting to get admission into University, and we were talented, vulnerable and the street was out there an avenue to expand our energy back then. Thank God for the art. We just wanted to have fun and be happy, sing, dance, perform our poems to entertain people. We weren't bothered about where our muse was going to come from. We were in a community known for violence, poverty and so on, and we were lucky to find outlet for our talent.
What is the significacce of Bariga, and how have you converted that to Art?
Like I said, I live in Bariga, grew up in Bariga all my life, except my days of secondary school, all I remember was when I was a child living on Ilaje road, I used to see King Sunny Ade walk down the street and we will come out to look at him. This was around the time of FESTAC and so on.
Ilaje was just a small community, they know every child in the community, it was just a small village. All of sudden, Ilaje began to transform, the transformation was mainly negative, it happened right there in our presence. Violence took over, crime and all sorts of things.
When they think of Bariga in Nigeria, they think about the negative part of it. But when you say you are going to Oxford, they will say you are going to school, they won't think of it as a city, same for Harvard.
When you mention Bariga they won't think about the good significant aspect of the community in Lagos, talkless of Nigeria.
Bariga is an academic community, we have the University of Lagos around the vicinity, we also have Yaba Technical School, we have two Colleges of Education and lots of secondary schools.
This is an academic community, people don't know this and I don't want to talk about the cultural aspect of it, we have King Sunny Ade. Salawu Abeni, Femi Kuti, even to the new generation of 9ice, Lord of Ajasa, Olamide, ID Cabasa and among others. Bariga is an intellectual and cultural community but nobody knows this, all they know is that it is a violence and crime community. People haven't lived through the system and experience both sides of the vibe of the street. Its about narratives, people are controlling our stories, "so we should tell our stories ourselves. You have your pen, then tell your stories yourself". Because they don't know about this beautiful things, about gifted young people with energy who do not want to go into crime. Its just like we are in one swimming pool enjoying ourselves.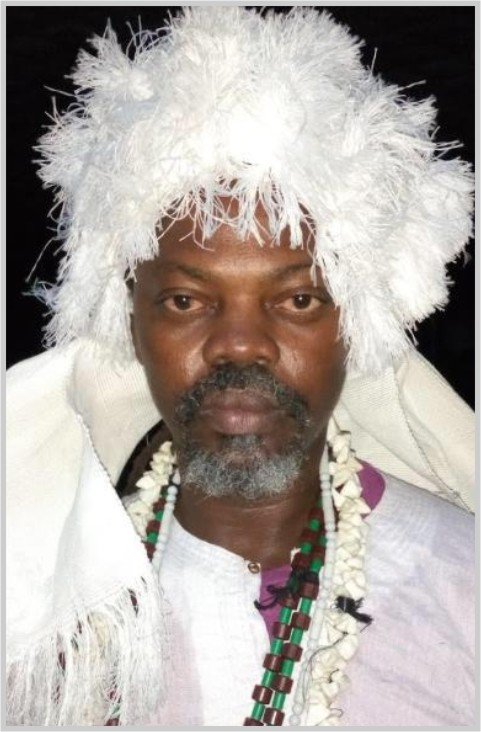 Is that why you called it Art Fatory?
Yes! We moved here 5 years ago and it is a workhouse, an Art Factory, it is not a place you come and joke. You are young and the option out there is crime and other sorts of things.
A young girl that is supposed to be a prostitute and a young boy supposed to be a soldier on the street they all come here. But you know what, there are dancers, great actors, great poet and talk about their energy and we came up with the idea of the Art Factory. You must be here by 7am in the morning, so nobody will tell what to do or not do, but you can't be doing drugs, you can't be doing all that social vices, you are an adult, you will have to work on your goals.
That is why we called it Art Factory, a work house.
How do you raise funds for the day to day activities, shows and events?
Ahhh! That is a big one, It has been the grace of God all this while and that is the beauty of this country Nigeria. There are people out there who are looking out for you but you need to have your God. Sometimes, we would run a show and we can't put food on the table for the family. It happens. Sometimes we would run events and school fee will suffer for it. Sometimes we can't pay bills, but sometimes we get commission once in a while, so I don't want to make an issue out of that because everybody is facing it. The barber, the tailor, the mechanic, everybody is going through all of this.
Does Segun Adefile feel fulfilled?
Yes! The only thing I lack is money, but every other thing, I can't but be greatful to God Almighty. I have seen transformation in the soap of a finger to see people around me and sometimes, I marvel and wonder. That people around me are doing bigger things that I am not doing but I am grateful I still want to have that private jet and build that mansion, have that land cruiser, these are the only things I am still waiting for now but every other thing, I am grateful.
The typical example of what we saw here today is it what happens everyday?
Yes! 365 days of the year, like I said I haven't left here all my life as a young person because of the kinds of choices out there I just knew that one could get out of the country, one could relocate from Bariga, the choices are out there, I think I will be wasting my life, my time and my purpose on earth if I did that. It's not my power to make decisions, I am very sure that it is Almighty God that is making decisions for me that is why, I am where I am. Either you go where you are planted and make a paradise wherever you find yourself, "we light our little candles at the little corners of the world".
Do you have a specific event you do, that you work towards annually?
Yes. We deal with young people and we need to create a way to let out the energy in them. So it is a challenge to always come up with programmes.
For Valentine, we have a play we are working on, Easter period, we also have something. Annually, we have a festival called Eko Hotel Canival and within this Bariga we have so many shows. Many companies organise festivals annually, like Kings and Queens festivals, we have Calco First Festival among others. I can tell you that in Bariga, there is no month of the year that something is not happening.
There are festivals and events happening.
When you were young, did you ever think of doing art?
In fact, I did not see art, throughout my secondary school, I was a Science Student, I was studying Physics, Chemistry, I have never studied government, literature and all those subjects. I did not encounter them until I got to the university. My father wanted me to be in Science class, the man insisted that I should be a Medical Doctor or an Engineer, which I wasn't interested in and I found him very instructive. I am dealing with my kids now, my first child is in a Football Academy, he said he loves football, I told him that he should go for it if that's what we wanted. Not our time that our parents insisted on what we must do.
Now my problem with any child is that whatever you do, you must excel at it and make us proud. My father loves me so much, he felt that art would not give me what I want, sometimes I sit and wonder that if I had paid attention and I had listened then, would I had gained respect? If I had been a Medical Doctor, Lawyer, Engineer would I have been seen differently? All these people are more respected than an artist but I decided to choose art. If you are an artist, you have to earn your respect by doing good at what you do, study and be a Master and a perpetual student, don't stop studying, keep learning.
Who are those you call your mentors?
Ah! Won ya pa o! There are lots of them. Fela is my muse, all my life, I just wanted to do with theatre what Fela did with music. If you see the content of our works, we do more of Prof. Wole Soyinka, Ben Tomoloju, Ogunde, Jide Ogungbade, among others. That was the reason I chose to be an artist, because I have lots of role models. I found myself lucky back then, you have people you wanted to be like who have good integrity, and were dedicated. Fela. You can't take artistic fertility away from Fela. Those are the people that fired us to the person we are today. They have left a very big gap that none of us have been able to fill but we keep trying our best and kudos to the young ones who are trying their best.
– Abiodun Olusola
Send Us News, Gist, more... to citypeopleng@gmail.com | Twitter: @CitypeopleMagz