Lekki axis has become a major hub for businesses these days and many business people have practically gone there to make sure they have their shops running there. Most especially celeb big babes who are involved in one business or the other. It has virtually become a show of class and status symbol as some believe that they could connect with their top clients there. One of the areas in Lekki that is enjoying explosion of patronage is the Admiralty Way inside Lekki Phase 1. There are several stores on it. The area has become the commercial haven in the Lekki axis.
To them, living in Lekki represents a more advanced lifestyle. People move to Lekki to be close to the corporate centres, which include Lagos Island, Ikoyi and Victoria Island.With the big dudes in the society living in Lekki, you are sure that you are staying close to VIP Neighbours. With top executives, businessmen, politicians, musicians, movie stars, calling Lekki home, you have the opportunity to meet and network with them.Famous for being the hub of the creme de la creme in Lagos, Admiralty way in Lekki has gradually become the, 'Allen Avenue", Ikeja replica. All the streets adjourning this road especially Fola Osibo are focal high points of where big businesses are thriving.
No wonder, these big babes troop to Lekki inlarge number networking their products and services in their mega shops. A trip into Lekki Phase one takes you straight to Admiralty Way, which makes you come in contact with several shops run by big babes and the entire adjoining streets off the Admiralty Way are also lined with shops. One good thing about these babes is the way they connect with their clients to patronise them. If a client buys from A, buys from B then she is likely to patronise some other few lines of businesses. The list is inexhaustible, but we present some of the big babes, who run big stores in Lekki below.
On this list is Kemi Adamu who runs a popular fabric store, the fabricroom and she has been at it for many years. What do you expect when she took after her mum in the business. Her shop is located at Centro mall on Admiralty Way, Lekki. She stocks exclusive fabrics from leading manufacturers worldwide.
She is the pretty wife of Ezekiel Adamu, the boss of Balmoral Event Centre. She is also the daughter of Oyeog Fabric boss, Bisoye Usman. Another popular fabric merchant is Bunnie Bees whose real name is Sharkie Adebisi Balogun. She has her shop at Rafiu Babatunde Tinubu close also known as Admiralty road. She is known to be in hot demand every week. Close to her as her next door neighbour is Abimbola Ipaye, the petite lady, who runs the popular aso-oke brand, Bimmms24. No intending bride has not heard about Bimbos expertise because she is dubbed the new queen of aso-oke, where you will get classy and very detailed aso-oke for all occassions.
What about Morayo Asoasiko, she is also one of the new entrants in the Lekki areas. The foremost fabric seller has her shop at Oju Olobun close off Admiralty.
Grey velvet is one of Nigeria's finest independent luxury retail groups, specialising in contemporary womenswears, menswears, shoes and accessories. It is located at the Centro Mall, Admiralty Way Lekki, it also has a branch in Ikeja. The retail store is owned by 2 Lekki big babes, Isioma Onochie-Aihie and Terae Onyeje. Doranne Beauty is one of the big make-up outfits in Lekki which emerged on the beauty scene in 2013 and they've since worked with some of the big names in the industry. The popular brand is owned by Theodora Mogo. The outfit is on Shaffi Sule Street, Off Admiralty Way.What about the Hennas Place? It is now the hottest hub for mostly Hausa or Muslim brides or any celebrity who wants to do traditional Northern beauty tattoo. The 2 beautiful babes behind the place are: Fatima Wafailu and Hadiza Tukur. The shop is at Babatunde Anjous Avenue off Admiralty Way. One hair outfit big babes rush to in Lekki is My Extensionz. The store is owned by American-born and raised twins, Kehinde and Taye Smith, who run and oversee the store. Kehinde handles the research and product quality, while Taye runs the operations. It is situated at the Greenville Mall, Admiralty Way, Lekki. Top MUA, Bibyonce is known for her elegant makeup, the MUA whose real name is Bebe Omagbemi operates from her Bashorun Okunsanya studio in Lekki Phase 1.
Young and beautiful Tania Omotayo is the brain behind ready-to-wear luxury store, Ziva Lagos. She joined Lekki shop owners not too long ago and she's not doing badly. Ziva Lagos is at Fola Osibo Street. Goodhair Ltd is another place where celebs buy hair. The shop is owned by 2 friends, Kika Osunde, who used to have a salon in London, and Chioma Ikeokwu. Linda Mesrob runs the popular Ariaba lifestyle and accessories outfiit, the store is at Fola Osibo, Lekki.
The super-star model, Agbani Darego, is also not left out. She launched a flagship store for her new denim line, AD, by Agbani Darego in Lekki. The store is located at Fola Osibo Street. Not forgetting Tosin Obasa Kehinde of  Ebonyberryclothings, it is also one of the hot fashion designing outfits in Lekki. It is located on Kenneth Agbakwuru Street. The ready-to-wear clothing brand, Wana Sambo could also be found in Lekki at Fola Osibo Street, on this same street is where top make-up artist, Joyce Jacob beauty operates.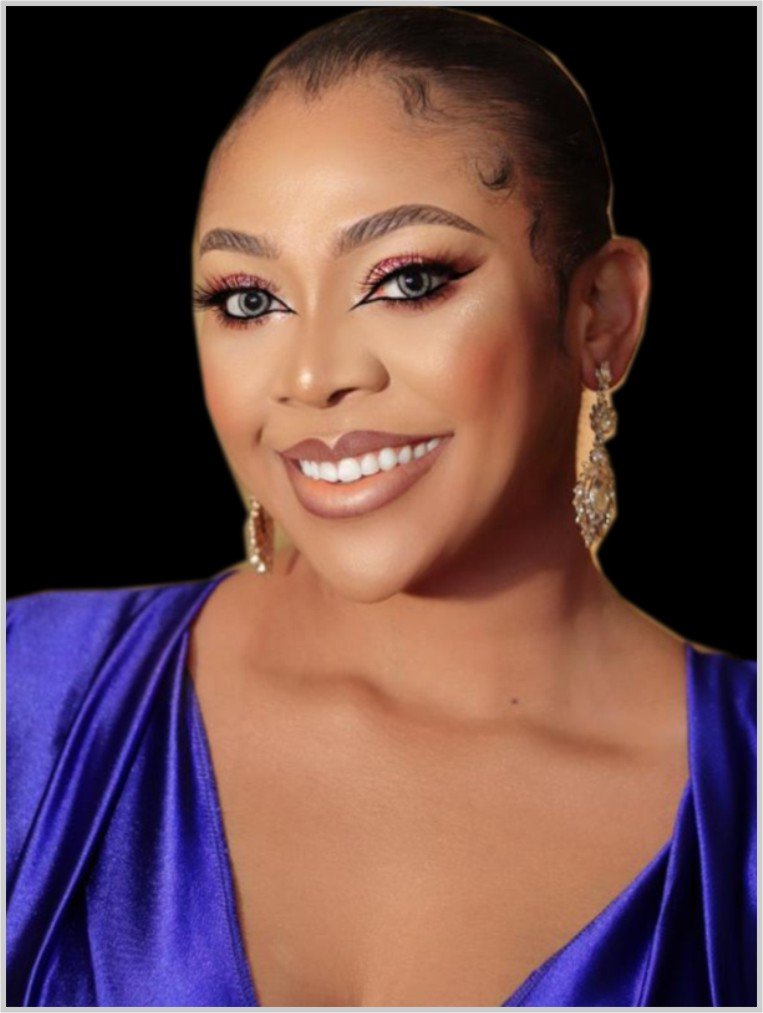 Beautycook Studio owned by Omontese Akhatuamen is at Posh Plaza, Admiralty Way, Lekki. Another hot make-up artist is Anita Brows Adetoye whose studio is located at Abije Sulaiman Street, Lekki Phase 1.
Flawlessbyjane make-up studio is at Adebayo Doherty, Lekki Phase 1. Ashabi tailoring is on Admiralty road, Lekki. Tosky fabric at Prince Adedeji Adelowo Street, Ella pride fabrics is at Niyi Okunubi Street, Award Winning Designer, Sandrah Tubobereni of TUBO, is also at Lekki Phase 1.
One of these ladies is Ehi Ogbebor, the boss of the thriving Interior and Furniture Company, Sayaveth interiors and hotels. Call her Lekki rich big babe and you will not be underestimating her because Ehi Ogbebor has always been in Lekki and most of her businesses too are there. She is also a big-time hotelier. Let's take you through another set of babes, who dominate the business and social scene in Lekki.
On this list is top entrepreneur and queen of styling, Toyin Lawani. She is as popular as her brand, eleganttianahstyling. She has chains of businesses from salon to style empire, restaurant business and so on. The business mogul, fashion designer, creative director and a fashion stylist is also one of the big babes in Lekki, who runs popular stores. Her studio is at Fola Osibo, Lekki Phase 1. Among the clique also is celebrity make-up artist, Delphine Onyi Okoronkwo. She owns the Bare to beauty salon, which has become the most sought-after salon for celebrities in Lekki. Delphine who also owns DELS place, a mall that houses the salon located on Fola Osibo Street. Dabota Lawson, the model and beauty entrepreneur came into the limelight when she won Miss Nigeria UK and she has joined the league of big babes who run big stores in Lekki. She runs a popular cosmetics outfit, Dabota Cosmetics. She stays in Lekki as well.
Fifi Umenyiora, fondly called Fifi Dilly is a socialite and pretty wife of young billionaire, Eric Manny Label's boss, Okwudilli Umenyiora. She is also the CEO of Jamo Afrique Restaurant and Buush Lounge in Lekki,Lagos. The gorgeous Lekki big babe, Freda Francis, also lives big in Lekki. She is a young entrepreneur, who's been active in the Lagos social scene for many years. She is the CEO and aesthetics specialist at Oasis Medspa. She also owns Orchard Global Services, a company that deals in General contracts, watches and jewellery. She belongs to this group as well.
On the list is Wanneka Doris Nkumah, who prides her brand as Nigeria's No. 1 hair company in Africa with a well-established presence within the Lagos Metropolis. She supplies original luxury hair and currently runs the biggest and largest distributors for virgin hair, closures, braids, wigs, hair accessories and so on. The serial entrepreneur Wanneka did not stop there, as she now has a beauty parlour located in Lekki Phase 1. She is the CEO of Wanneka Virgin Hair and Accessories, a luxury hair boutique, which is also known as Hair by Wanneka.
Blessing Osom popularly known as Lady Golfer is also among the clique. She is also a big-time businesswoman. She owns Calabar Aroma Restaurant, hotel de Osom, Golfers Furniture, Aroma Cold Room, B&G Wine Place. On this list is a skincare expert, Jennysglow, she has her store at Brasas Plaza, Victoria Arobieke Street, Lekki and many others.
– TAYO OYEDIJI
Send Us News, Gist, more... to citypeopleng@gmail.com | Twitter: @CitypeopleMagz