•The Story Of Oba (Engr.) SULAIMAN ADEKUNLE BAMGBADE
On Thursday 15th September, 2022 Isheri, Olofin will come alive, as HRM Oba (Engr.) Sulaiman Adekunle Bamgbade, the Arole Olofin Ogunfunminire, Olofin of Isheri, Adimula of Awori Kingdoms will be celebrating his 1st anniversary with a Thanksgiving and turning of sod for a new Aafin Olofin Ogunfunminire, to be performed by His Imperial Majesty, Ooni Babatunde Adeyeye Enitan Ogunwusi. Music is to be supplied by King Wasiu Ayinde Marshal (K1).
He is a young king who has brought his youthfulness to bear on his community. He holds a key position as the Adimula of Awori Kingdom. Since he took over as King last year, he has done a lot to transform Isheri Olofin. He has also made his impact felt.
A few days back, Oba (Engr.) Sulaimon Adekunle Bamgbade told City People what he has been able to do to improve the lives of his people. How does he feel that he is celebrating his 1st year coronation anniversary? "I feel very happy. It makes me feel excited. I feel very good having done a year on the throne of my forefathers. I feel accomplished in some way and I hope I get to spend many more years on the throne".
What were the expectations when he came to the throne and what did he meet when he settled in? "I expected a lot when I got here, but at the same time I have been able to improve on so many things", he explained. "For instance, we all know that Isheri Olofin is the cradle of all Aworis."
"But when I got here, it had never really taken that place in the scheme of things. It took me a while to get adjusted and to start trying to put Isheri Olofin back to where it belongs, because it was the 1st Awori town that was created by our progenitor, Olofin Ogunfuminire before expedition took him to other parts of Lagos, and Awori started spreading to some parts Ogun State and other parts of Lagos."
"So, rightly, the Olofin is supposed to be the head of the Awori tribe. I expected a lot when I got here, but at the same time, it has taken me a while to get into the groove, but gradually we taking it to where it rightly belongs".
We got him to tell us a bit about the story of Isheri Olofin. How does he define his own domain? "Isheri Olofin is the cradle of all Aworis. Our progenitor when he left Ile-Ife, during the time of the exodus of the Prince in Ile-Ife, he too was given his crown and he left Ile-Ife."
"He was to place calabash on the river, wherever it sinks that is where is called home. So, his people came down here. Right here, outside here, you will see the river, the calabash sank here, they came up here. That is how they got the Awori. From there, Isheri was a place where they kill Elephants, so they named it Isa Erin in those days when you kill an Elephant you can't move it. It was where they kill and butcher Elephants and they named it Isha Erin. This was actually the dispersal point for other Awori towns. They all have links one way or the other to these towns. So, rightfully, like we say, this is the cradle of all Awori's and that is why we all have the same eulogy, no matter where you are from. As long as you are an Awori person, you are being eulogised the same way. That is just a brief history of what Isheri is. Our progenitor had 2 wives: Akesan and Ajayi. Akesan gave birth to 2 children, called Ogunbiyi and Ogunerun. Those are all here in Isheri Olofin, whilst his other wife, followed him on one of his expedictions to Iddo, and that is where they gave birth to the Idejos in Lagos. After a while, he came back to Isheri, where he became the famous Agboderin".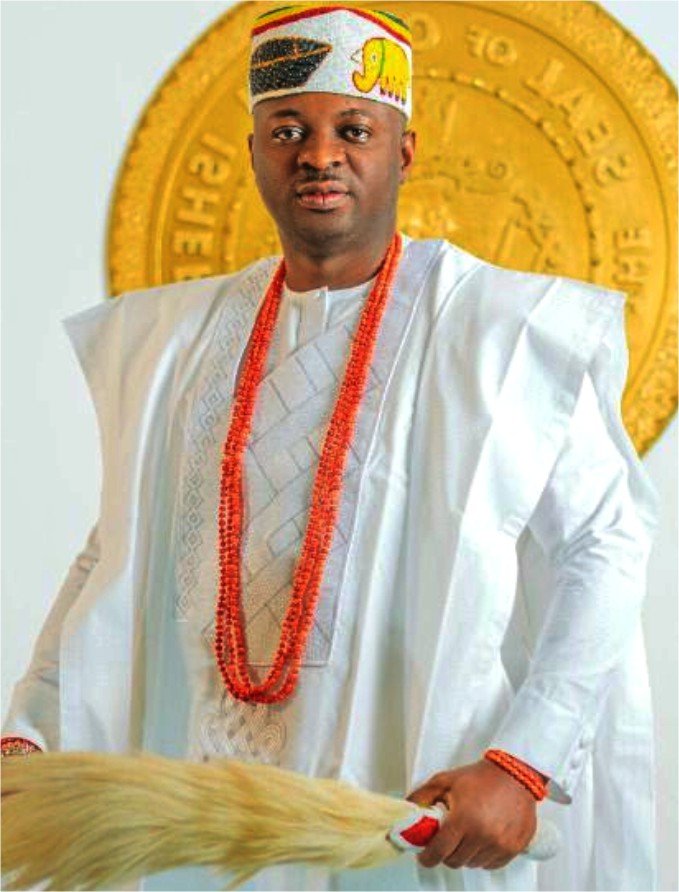 How does he plan to celebrate his 1st year anniversary? "We plan to celebrate it big. We are still on course. There is a little adjustment. We were hoping that the new Isheri Palace road would have been finished in due time, but I know they are suffering some backlog in some of their logistics. They are currently still working on it. We were hoping we would celebrate it along side the anniversary, but that might not happen. There are some other programmes which are still scheduled, like the turning of sod of the new and modern Aafin Olofin Ogunmunire which is to be done by his Imperial Majesty, the Ooni of Ife. That is still on course. We have some other programmes like the anniversary itself and the installation of some chiefs who are rightly due for the installation. It is part of the programme".
What has been the biggest challenge that he he been faced with since he came on the throne? "It is managing people. It is a very huge task. I think my biggest moment with managing my people came when it was time for the construction of the road, because it affected some houses. And you know this place is an indigenous town. It has been the way it is since 1400 when Olofin came in. So we had to touch some peoples houses and roots, historical roots. There is this particular house that we have about 5 kings who are related to the house. By that I mean the Oba of Isolo, the late Oloworo of Oworo, Oba Oniro in Ogun State and Oba Lambe Ojokoro of Ojokoro Local Government and Oba Ganhun.
They all have links to the house. It gave us a whole lot of problems trying to get them to see reasons with us that the town deserves a new road that needs modern day kind of infrastructures. So, in managing people we had to communicate our plans, and our reasons for wanting to expand such a road in the town. So, we had to liaise with so many people. It was the biggest issue I have had in dealing with my people. But we have done good".
Is Isheri Olofin under Lagos State, or Ogun State? "Let me answer you in 2 ways. Officially, by the delineating of Lagos State and Ogun State, my seat as the Olofin of Isheri falls in Ogun State, but customarily only 30% of Olofin's land is in Ogun State. 70% of Olofin's land is in Lagos State. But officially, the stool of Olofin Isheri was thrown into Ogun State under the colonial masters when they were delineating Lagos Colony and Egba Colony, due to the fact that they were already interacting, with some people in Lagos and they had a missionary going on in Egba there".
Has this affected the growth of Isheri Olofin community? "Yes, it has affected us in many ways. If they had given us the chance to choose, we would have gladly chosen to be in Lagos State because Lagos State is more economically viable. They have a better and responsive government in Lagos."
"At the same time, according to the records I met we were thrown in Ogun State then, without our knowledge, because there is a document here dated 1894, that shows that when Sir Carter, the then Governor of the Lagos colony and Egba colony's administrative people were delineating between Lagos and Egba colony, the Olofin and his Chief were not aware of the Treaty and arrangements being made. It was at the time of Olofin Taiwo Olowo. He was not aware, as clearly stated in the court judgement and so many other documents here. He would have clearly wanted to be in Lagos State, but we found ourselves in Ogun State and in Ogun State atimes, we even struggle to even know which one we belong to. When I was growing up, I knew about Lagos and Ogun fighting over the boundary line here. Positively, we have been impacted by outflow of Lagos State infrastructures. It has made some of our estates very developed. But at the same time, we would have liked to even feel the impact of the government as well.
–SEYE KEHINDE
Send Us News, Gist, more... to citypeopleng@gmail.com | Twitter: @CitypeopleMagz