•Fast Rising Actress, FUNMI OJOYE-OLUTOLA
You can't possibly meet Funmi Ojoye-Olutola for the first time and not take a liking to her. If you're not taken in by her usually cute and stylish look, you will be swept over by her charming personality and adorable smile. She has the capability to make even her biggest critics fall in love with her once she is able to engage them for only a few minutes. Another strong feature of this hugely talented actress is that she is a supremely confident woman. Nothing intimidates her. Funmi Ojoye carries herself with such poise and confidence that immediately tells you this is a woman that knows exactly who she is, what she wants and has a clear idea how to go about achieving her goals. This is why, once he made up her mind she wanted to go back to her first love, which is acting, she didn't think twice about stopping her banking job, all she needed was the blessings of her husband.
Funmi is steadily making appreciable progress as an actor. She has produced about five movies and has featured in lots of chart buster Yoruba movies. She is also very much a part of the English arm of Nollywood. Presently, she is an integral part of the Mnet Family, having featured in top Africa Magic series like Ajoche, Venge, Jemeji and several others. This brilliant actress visited the City People headquarters two weeks ago and spent quality time talking with Senior Editor, WALE LAWAL (08037209290). She shared with us her humble beginning and exploits so far in the movie business. Enjoy excerpts of the interview.
I know your first name's Funmi, but let's have your full name
Okay, my name is Funmilayo Gbemisola Asake Ojoye Olutola, and I am from Ogun state, Abeokuta precisely.
Alright, tell us a bit about childhood. Where were you born, where were you raised?
I was born in Lagos state. I was born right inside my father's house. Everything was well until the time I was around 6 years old and I lost my mum. So, childhood was a bit difficult.
How did the loss of your mum affect you given the fact you're female?
It was not easy. It was particularly painful for me when I was in school and the girls were always talking about 'my mum did this for me, my mum did that' and I had no story to tell because there was no mother. That really hit me real hard. It was emotionally difficult for me but I thank God for today.
What position are you in the family?
I am the last born. My mother died while trying to have another baby and so did the baby, making me the last born of the family.
So, how has it been finding your feet as the baby of the family and as a female who lacked that motherly direction all through her growing up years?
It was a bit difficult but I am thankful to God. I don't really know how God did it but I still followed the right path because we were all well brought up, though my dad was barely around. His job was always taking him out of town. This just goes to show that a bad child will always be a bad child, whether there is supervision or not. Most of the time, my siblings and I had no supervision but we behaved ourselves. I chose the right path. I never for once lived a wayward life even without a mother by my side. Most of the time we were on our own. But this is where I must give big credit to my big sister, Mrs. Faith Taiwo. She is my eldest sister and first born of the family. She was just 14 when our mother died but she automatically became our mother. My sister suffered for us and sacrificed a lot for us. I remember how she fried pan cakes and hawked for us so she could raise money to cook food for the family. She really tried. Sister Faith took off from where our mother stopped and till today, she is still playing the role of a mother. I love her so much and I'm using this opportunity to say thank you to her for everything she did for us. She is married to a wonderful husband, Air Commodore I. A. Taiwo of the Nigeria Air Force. This amazing woman has remained the leading light in our family and I will forever cherish her. The fact that I also gave my life to Christ at a tender age also helped a great deal. I was born into a Muslim home, my father was an Alhaji but I converted to Christianity and our church was not too far from our house. That enabled my mentor, my pastor, Pastor Robert Johnson and his wife, to always check in on us and look after us. My life has always revolved around the church, going for drama rehearsals, choir rehearsals, aside school. If I'm not at home, am in church.
How did acting come about for you?
When I finished my schooling, (I studied Business Administration) I got a job in the banking industry with Intercontinental bank now Access bank. Right from childhood, I've always wanted to act. As a child I was always entertaining people but there was no one to guide me through. After school, I got into the banking industry, got married and had two kids, a boy and a girl, but deep inside me, I still desired to be an actor. I told my husband and he said if that is what will give you joy, resign and go for what you love to do and that was how I resigned and left the job. I then traveled to Ghana and got involved in the church drama and somebody saw me and was like wow, you are good and they called me for a production there in Ghana. That was the first time I would feature in a movie. After the production, I met with the producer and told him I would like to do a movie myself and he said, okay, let's do it. I shot two movies, Master plan and Debt before coming to Nigeria. It featured a lot of Ghanaian actors and they were sold there in Ghana. When I returned to Nigeria, my sister took me to my boss, Mr. Wale Ilebiyi and I showed him the two movies I produced for the Ghanaian market. And he said okay, so that was how I started going for rehearsals. I then decided to also add a few things to my acting profession. I started learning how to do special movie effects and also make up.
Did you expect your husband to give you his express approval to go into acting so quickly?
We met in church in Port-Harcourt then and I was in the drama group. So, he saw me acting and he loved what I was doing. That was what he met me doing in church before he proposed marriage to me. He also happens to love watching movies and skits so that made it all easy because he wanted to see me doing such on screen as well.
And how supportive has he been?
He has been so supportive, very supportive. I give it to him. And I'm so proud of him.
How many movies have you produced here in Nigeria?
I have produced three movies, Gbemisola, Adigunjale and My Husband, My Maid. Apart from the Yoruba industry, I am also part of the English industry. I work with the Mnet Family, I am involved in series like Jemeji, Ajoche, Venge and also featured in Jenifa's Diary.
What level are you hoping to take all of these to in the next couple of years?
In the next couple of years, I want to be able to look back and say God, is this me? The thing is, I am so close to God, and God has shown me a lot about this profession I'm into. I want to get to that stage where everybody wants to see my name on a movie before they buy it. It's a gradual process of course, I know. But I will get there.
Who were those movie icons you looked up to when you were coming into the industry?
Well, I love Funke Akindele, especially for the way she throws her all into acting. I love Genevieve and Kate Henshaw. I try to emulate the passion and commitment of these actresses. Usually, I am a quiet person, I love keeping to myself, but once am on set and I hear action, a different me comes to life. I get on set and give the job my one hundred percent. I don't care if I'm acting alongside a super star, I get on set and give a fantastic performance, that's me in action.
You are a married woman, do you have issues with playing some particular roles?
Yes, sir, there are some roles I don't take. I was told it's not professional to say this, that as an actor, you must deliver any role they give you and stuffs like that. There was day I was on set. I had this role where I played wife to my set husband and we were supposed to be fighting always. There was no part in the movie where it was written that I will have to kiss him. So, towards the end of the movie, my husband and I made up and the director now said we were supposed to kiss. I said, no, I won't do that because there was no part of the script given to me where it was said I will kiss the guy. It was a big issue. Even the guy playing my husbanbd on the set came to me and was like, 'Funmi, is there something wrong with me that you can't kiss me?' and I'm like, no, it's not about you, you're good looking, this just me. For two hours, production was put on hold until my boss was called and he had to drive down to join us on set. He got really angry with me and I was almost in tears, that was when I finally went ahead with the scene. So, there are some scripts I don't take, like dressing almost nude on set or kissing
You look quite good for a mother of two, and if you tell anyone you're not married no one will disbelieve you, how do you cope with male admirers?
I will be honest with you, I have lots of male admirers, but like people say, you will be addressed by the way you dress and present yourself. Because of the way I carry myself and conduct myself when I go out, only very few men would have the guts to approach me. I deliberately don't make it easy for them to do so. And for the few who come to me, I try very hard not to disrespect anyone. I give what some people call polite insult. Most often, we end up becoming friends and I offer pieces of advice to them whenever the need arises.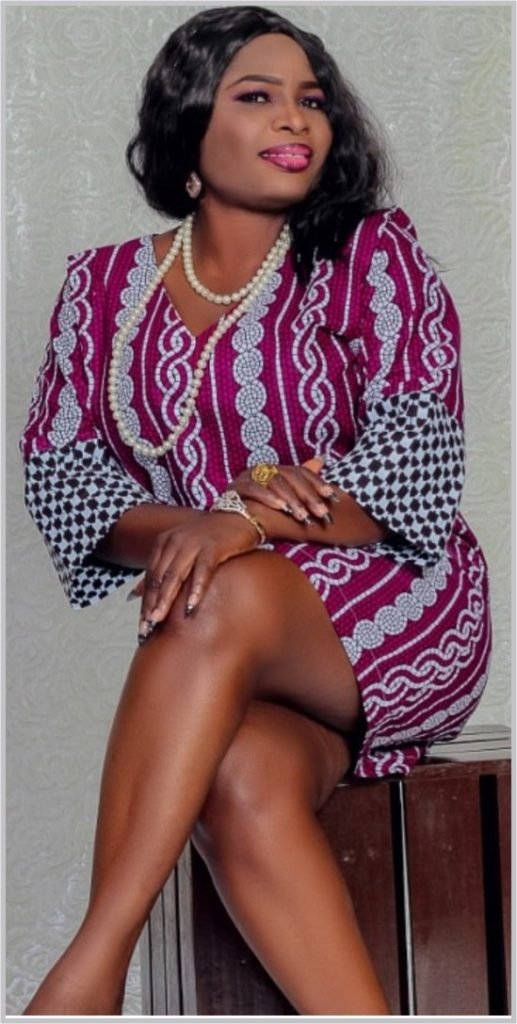 I understand you're also into photography, how did that come about?
I am somebody that loves pictures, beautiful pictures. They excite me. And when I thought about adding a little more to what I am doing to earn more income, the idea of setting up a photography studio came up and that was how I set up Asake Media. I opened it, got a very good photographer and we started. We go out for shoots, weddings, birthdays, burials, we basically get more outside jobs than studio jobs. We do video coverage too. We do photo books. And I always strive for quality, it comes first before profit. I love photography a whole lot.
Let's talk about your current project, which movie are you working on right now?
My current project is 'My Husband, My Maid' and it's already out on VCD. I wrote the story myself. By this weekend, it should be on Youtube. It has a fantastic storyline and I'm happy with the final production. I am hundred percent sure people will love it and learn a lot from it. People who have seen it are impressed with the quality of the movie and are even recommending and advertising it to others.
You can reach Funmi via Instagram: @funmilayoojoye
Funmilayoojoye
Facebook: funmilayo Ojoye-Olutola
Send Us News, Gist, more... to citypeopleng@gmail.com | Twitter: @CitypeopleMagz