Christmas is in the Airrrrr!!! What a time to debut on this column. First, I am very honored to be given the opportunity to serve you weekly recipes, food inspiration and story's on this prestigious platform, I am very elated.
Being host and producer of Nigeria's foremost and award winning Cook show Foodies and Spice has been a roller coaster of experience for me through the years, from being a simple Nigerian girl who loves food and replicating all my Grandma's recipes to growing over the years, learning and researching on anything Food.So on this column, we are still going to be on our learning and exploring food journey. Feedback, comments, your recipes and ideas will be highly welcomed.
Back to our Christmas. Christmas for me means Food, lots of Food amidst every other activity taking place, my mind is always on the FOOD, so this year I planned a cook class which I tagged the Amazing Christmas table to help me make this Christmas memorable to all Participants, my fans and followers alike.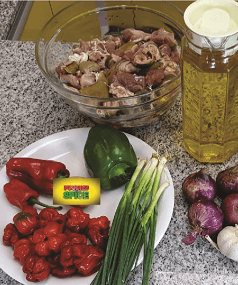 For us on this platform, I will be sharing 4 Easy Christmas recipes, one every week through this festive Season. The first on my List is ASUN (Hot and Spicy Grilled Goat meat).
My first encounter with Asun was in Lagos, Nigeria. I had just finished university and moved to town in preparation for Law School, and working for a Music channel then, we frequently organized club parties which meant late night outs. So one of these Nights attending the club party, I noticed the guy in the rectangular shaped kiosk with a barbeque stand in front.The smoke smelled of heavily spiced grilled Goat meat that cannot be resisted and I so wanted to have a taste of that smoky goodness. That began my romance with Asun.
I have learnt it, perfected it and even added some extra swag to make it more appealing to the eye, so for our Amazing Christmas table, we will need
INGREDIENTS
*2 Kg Goat meat (Cut into bitable chunks), *2 Red Bell Peppers (Tatashe), *10 Scotch Bonnet (Fresh Pepper), *1 Large Green pepper, *4 medium sized onions. *Salt (to taste), *Seasoning (to taste), *1 teaspoon Thyme, *1 teaspoon Oregano, *2 cooking spoon Oil,  *3 cloves of Garlic
PREPARATION
Place Goat meat in a bowl and season with Seasoning cubes, salt, thyme and oregano (massage into the meat thoroughly). Put it in a pot, add chopped onions (1bulb) and minced Garlic, allow it cook with its own water till soft. If the water dries up and it is still tough, add water in bits till its soft. (The aim is to make sure the meat absorbs all the juicy goodness).
Blend onions and Fresh Pepper coarsely, sauté them in the heated oil then Season with salt and seasoning cubes.
Transfer meat to a heated grill pan (or a frying pan if you do not have a grill pan) and grill till it'ssomewhat roasted but not too dry or burnt. Add the Onions and Pepper sauce to the meat and incorporate properly then set aside.
Largely Chop Red Bell Pepper and Green Pepper then grill them in the grill pan (Just allow them sweat a little) then pour on the meat just to give the meat some very beautiful color for the festive season.
Add this recipe to your Christmas table and you will get your family and guests looking forward to another Amazing Christmas table next year.
So till next week, please help spread the word about this column, follow me on Instagram @geenafoodiesandspice You will find videos of this recipe and more on www.youtube,com/ginaehikodi Just click the subscribe button and you will be informed whenever I post a new video.
Also, if you have Food brands or products you will like us to try, do reach out to the City People Marketing Team and we will gladly try out your products.

Merry Christmas in Advanvce!!! Iyaibeji
Send Us News, Gist, more... to citypeopleng@gmail.com | Twitter: @CitypeopleMagz