•Olori RANTI AJAYI, Wife Of NORDICA Fertility Boss
Olori Ranti Ajayi, is the pretty wife of Dr. Abayomi Ajayi, the MD/CEO of Nordica Fertility boss in Lagos. She is a trained Nurse and the Clinical Manager of the Center located on Norman Williams Road, Ikoyi, Lagos.
She turned 60 a few days back and told City People a lot about her success story and how her husband swept her off her feet.
For instance, many don't know she is from Modakeke, a town adjoining Ile-Ife in Oyo State. We got her to tell us about this and many issues. "I was born in Modakeke in November 1962, my father is late, my mum is still alive, living with me at the moment. I grew up in Modakeke. I went to primary school there.
I went to Ife Girls High School where I had my secondary school. After my secondary school, I left home and I have never been home, at least not to live. I went home. I went to the school of Nursing in Abeokuta in 1980 and that is how the journey began".
How did she and her husband meet? "We met in Ibadan. I was working at the Staff Clinic at Radio O.Y.O, then Broadcasting Corporation of Oyo State. That was the clinic where I was working. He came. He wanted to change to the clinic. He was doing Youth Service. He was somewhere, he wanted to leave there and come to join us. That was how we met. He eventually didn't get to work there but he met me and it led to marriage afterwards".
What was the attraction for her? "I think the attraction came almost immediately he came in. He was a tall, fine, young man. And of course we became friends there and then because I was the youngest Nurse that he could relate to. We became friends and we started talking. And he asked me out. We got married in 1988. We met 3 years earlier".
What has sustained her marriage to Dr. Abayomi Ajayi? "I will say friendship. We are friends. We talk about everything and anything. We joke a lot. We also understand each other to a large extent. If you understand someone you will not hurt the person. He understands me. I also understand him. He is not a social media person, I am. Sometimes he gets really angry when I post pictures online.
We are friends. And that is the most important thing. I respect him a lot. Sometimes, he pushes me to do stuff, beyond my capacity and whenever he does that I will quickly say Oga, I am not you.
Can you just slow down. Let me just do whatever I can do. But at the end of the day, it is more of friendship than even love. The love is there. If you are not in love you won't get married. The friendship thing is very, very important.
And of course, we both know God. And we know what God wants and what God does not want. So we would always please God in whatever we do".
What is your advice to all the young women out there who are looking up to Olori Ranti Ajayi? "I will say to everyone out there, be yourself. No pressure from anybody. Don't follow the crowd. Just maintain your lane. And be good to yourself. Know God. Serve God. And most importantly live a healthy life, not only in terms of what we eat, but what you put in into yourself emotionally. Just be yourself and be good to people".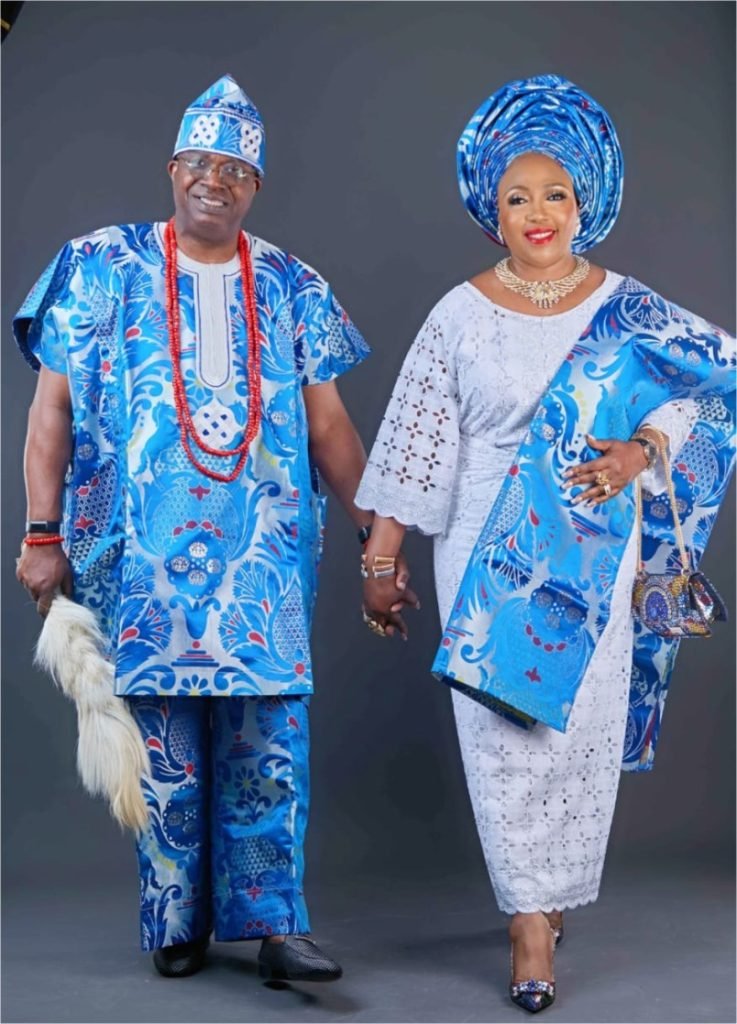 She wears a low-cut. And we decided to ask her why and when she decided to go low-cut. "I think I just woke up one day. My last child is 20 now, going to 21. I started wearing low-cut before I gave birth to her. That is about 22 years ago. I just woke up one day and I just got tired of wearing weave-on, wearing everything. And I just caught it.
And that was it.
Send Us News, Gist, more... to citypeopleng@gmail.com | Twitter: @CitypeopleMagz