DMW boss and singer, Davido has kept on adding more prosperity to his portfolio with enormous brand endorsements. The artist is currently the official brand envoy for a leading manufacturer of home –products, Aspira's Viva Plus Laundry Sanitizer Detergent Powder.
Aspira Nigeria Limited is one of the largest manufacturers and distributors of personal health care and laundry products in Nigeria.
Aspira praises Davido for embodying their brand identities and values as a successful singer, songwriter, and record producer using his influence to cause positive change in society.
Speaking to newsmen at a press conference, the Head of Marketing, Aspira Nigeria Limited, Mr. Santhosh Kumar Nair mentioned that working with Davido, will create exciting opportunities in the form of discounted deals and promos for the general public to benefit from.
He also said, "Bringing Davido to be a part of our company is a huge step for us towards achieving our mission of becoming the highest provider of affordable home-products at affordable prices and efficient delivery."
Following this new signing of Davido as Viva Plus official brand ambassador, Aspira Nigeria has already rolled out some exciting deals on all their social media platforms for everyone to key into the new product.
Davido, who came in company of his DMW gang, expressed delight and willingness to the part of the Aspira family at the unveiling of the product, stating that the product- launch was in line with the vision of the company to break new grounds and deliver high- quality product to their customers. He said he accepted to join the family after doing due diligence and background study of what the company is about and discovered the brand has initiated so many youth based  projects and community development programs.
He said he is willing to promote the brand with the initiation of youth-based modalities to boost the market strenght
He commend the management of the brand for the creativity and vision for the brand and other products from it's stable, and assuring that the relationship shall extend beyond Viva Plus
He implored his teeming fans to join him as he is set to launch his marketing strategy for Viva plus with the rest of his media team.
He assured them of a thrilling experience as the new product, in his words, "has been tested and proven to be of A-plus standards".
Davido's manager, Bobo Ajuda, who was also at the event expressed profound delight at the unveiling of the product, stating that the product- the launch was in line with the tradition of the company to break new grounds and deliver a high-quality products to their customers.
"We have done our due diligence before we sign up as a member of the Aspira family and we are willing to be part of the growing process." He said.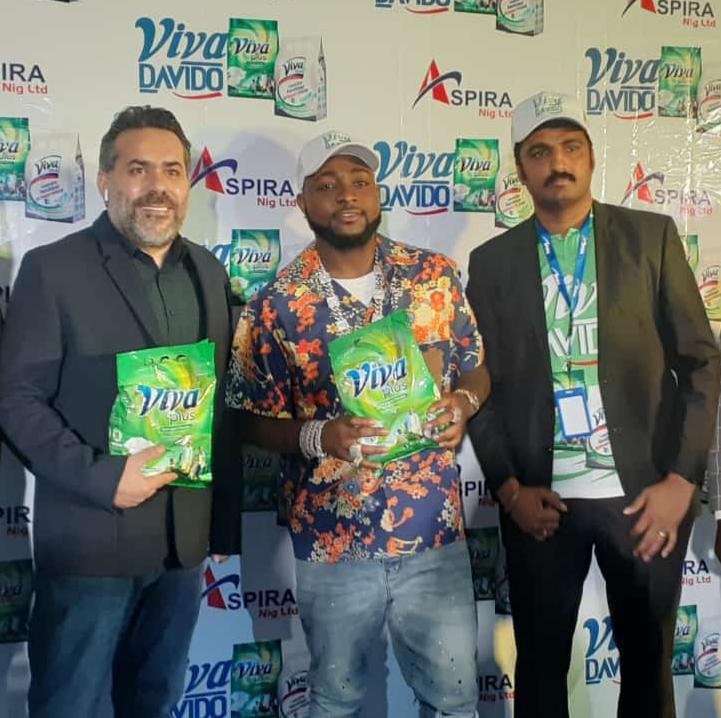 Aspira's Viva Plus was manufactured in the wake of the COVID-19 pandemic in the country, the company decided to develop a detergent that could reduce the risk of spreading ill- causing bacteria, in addition to keeping clothes stain- free. Viva Plus Laundry Sanitizer was the result of that courageous initiative.
Mr. Santhosh Kumar Nair indicated that Viva Plus Laundry Sanitizer Detergent Powder contains an advanced formula that removes tough stains and leaves a long-lasting fragrance while stating that, It is specially designed to keep your clothes bright and vivid, wash after wash.
"The new Laundry Sanitizer was developed under multi-enzyme and eco- friendly technologies and contains zero percent bleach. It is gentle on fabrics and works even in cold water".
Viva Plus Laundry Sanitizer Detergent Powder contains an advanced formula that removes tough stains and leaves a long-lasting fragrance while stating that, "It is specially designed to keep your clothes bright and vivid, wash after wash."
He explained that the new product is available in four different variants, namely 51x85gm, 27x180gm, 13x380gm and 9x900gm
Send Us News, Gist, more... to citypeopleng@gmail.com | Twitter: @CitypeopleMagz