Hon. Abdulsobur Olayiwola Olawale needs no introduction. He is one of the most popular and influential members of the Lagos State House of Assembly. He is the Lawmaker representing Mushin constituency II. He is such a hugely popular figure amongst his people and to say they do not joke with Hon. Olawale is like putting it mildly. Their loyalty to him is fierce. If you want to incur the wrath of any member of his constituency, cast the slightest of aspersions on the character of their beloved Lawmaker and they will bring the roof down on you. That is how much they love Hon. Olawale whom they chose, many years ago, to rename 'Omititi,' the name nearly everyone calls him now.
Hon. Olawale is the Chairman House Committee on Local Government and Community Development of the Lagos state House of Assembly, a humongous task that only grass root politicians with an uncommon passion to serve their people can see through and deliver. But you can trust Hon. Olawale with a challenging responsibility such as this one and go to sleep. This is because his passion and commitment to making valuable contributions to governance is not in doubt. This is one of the reasons his peers at the Assembly respect him and take him seriously when he speaks. They know he is not a frivolous character. Omititi is a goal-getter who never allows the distractions inherent in politics to shift his focus or take his eyes off his target. He thinks, breathes and talks development of the state and the country at large all the time. Not many know he has been around for a long while now. People are often shocked for instance to know this soft spoken and extremely deep Lawmaker was Special Adviser on Transportation to former governor of Lagos, Asiwaju Bola Ahmed Tinubu. Yet, he carries himself with such humility that leaves many bewildered about his simple personality.
Last week, City People's Senior Editor, WALE LAWAL (08037209290) spent about an hour with this good looking gentleman and got him to speak about his former boss and national leader of the APC, Asiwaju Bola Ahmed Tinubu. We got him to react to the immense clamour for Asiwaju to run for president come 2023 and also share with us what his expectations of an Asiwaju presidency are. Enjoy the excerpts.
Let us begin with the unending clamour for Asiwaju to run for presidency come 2023, how does this excite you?
Surely, I am highly excited and elated as well that nearly all Nigerians are asking governor emeritus, Asiwaju Bola Ahmed Tinubu to come out and contest for the presidency come 2023. If you look back over the years, you will agree with me that Tinubu has paid his dues. He's someone who has raised people across the entire nation. His human resources development capacity is second to none. And many have benefitted from it. He has developed a lot of people. I believe it's payback time for Asiwaju and I join millions of Nigerians who are clamouring for his presidency. He should declare. He should yield to our yearnings because he deserves this.
What sort of prospects in terms of quality leadership should we expect from an Asiwaju leadership?
Top quality leadership, that's what anybody should expect from him. His antecedents speak for him. Right from 1999 to 2007 that he was the captain of the Lagos state ship, he performed creditably well. When you talk of financial engineering, he was the governor who turned around the N500m we were earning as IGR then and raised it to over N18b by the time we left. That's what we call ingenuity. Asiwaju is an Enigma. He has that political will to really move Nigeria forward. Only few people are endowed with all of these remarkable qualities that Asiwaju has. He is also a good listener. A good leader who always listen to his colleagues on how to move the nation forward. Many will be surprised to know that this man works from 8am to the following day. That's what he does every single day. People like him can be likened to Awolowo. The late sage was quoted to have said that while people were busy frolicking and making merry, attending parties from dusk to dawn, he was busy thinking and strategising on how to move the country forward. It's the same with Asiwaju. He is forever thinking. I believe he already has the blue print of the nation's economy in his hands as we speak.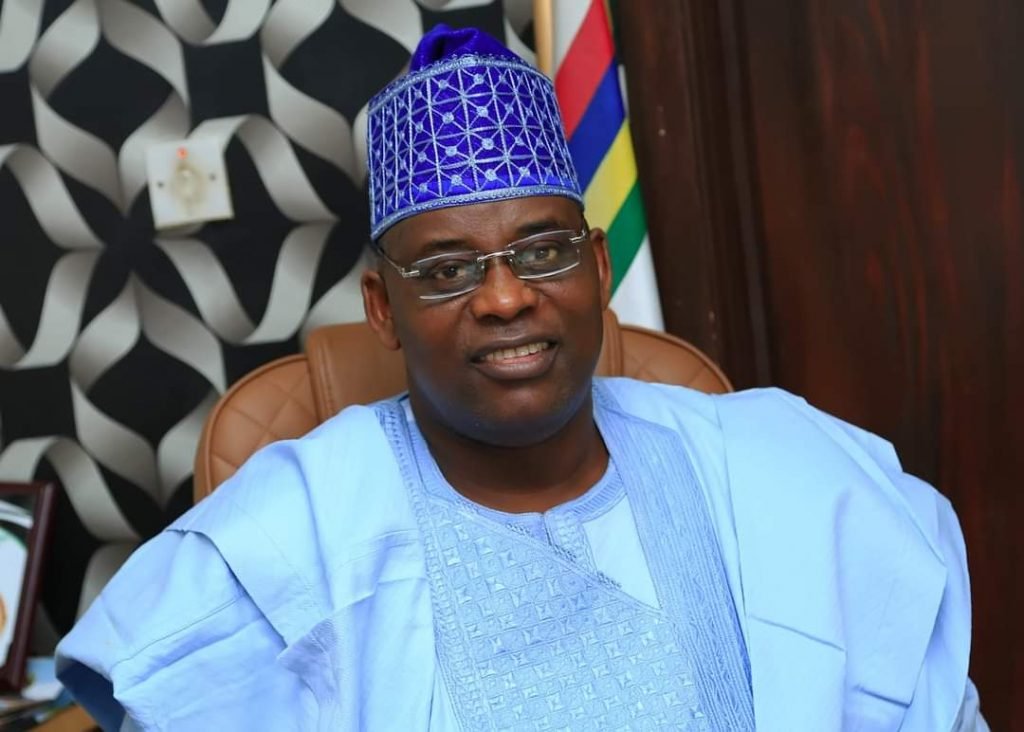 His background as an Accountant gives him that capability to turn around a not too good looking financial situation around for good. He knows how to spend the nation's economic resources judiciously. He did this while he was Governor of Lagos State. Another thing that's working for Asiwaju is the effect Asiwaju is having on the entire nation, let's not even talk about the support he has outside the country. Let's come back home here in Nigeria and talk about the people he wants to govern. How much does he know about them? Asiwaju is at home with the Hausas, he's at home with the Igbos, he's at home with everyone, so what are we saying. Who amongst his peers has the political will to do all of these? There is a difference between being chosen by God and you choosing yourself. He's naturally gifted and the almighty Allah has already shown us the way to go, its up to us to do the right thing. Without a doubt, if Tinubu becomes president, Nigerians will see a lot of positive changes.
You are someone who has had the privilege of working closely with Asiwaju in the past, you had a very wonderful working relationship with him and got to see him at close quarters to understand the kind of person he is. Share with us a few things that the average Nigerian does not know about the real Asiwaju.
Asiwaju is a goal getter. I remember when we were launching LASTMA back then years ago, people thought it was unrealistic, that we were duplicating the functions of other already existing traffic agencies. But he insisted LASTMA should come into being and he supported us with everything we needed. He even put on the LASTMA jacket when we were launching it. That's just to tell you that he goes for results and when he gives you a task he expects you to deliver on it, no stories. And he will give you everything that you need to perform. Who will not perform when you know you have a leader that is a performer too. When we were in the ministry of transportation, that was how he supported us and made the job easy for us. I remember back then when a staunch member of PDP was having the wedding of his son and then drove their vehicles via one-way. That was when LASTMA was still very strong. And when he was called to intervene in the situation and we explained to him that they drove through one-way, we showed him the evidence and he backed us up and supported us to go ahead with our work.
Many have described Asiwaju as a man of several strong qualities, but we will like to know, sir, which one of these qualities stand out the most for you?
For me, the part about him that I love the most is his human development capability. Asiwaju does not want to know where you come from, who your parents are, he will assist you and develop you in whatever capacity he deems fit for you. Look around this government, you find Igbo and Hausa personalities occupying very key positions. And this was the situation during Tinubu's time as governor. He laid the foundation for this. Because of the cosmopolitan nature of Lagos state, he knew that he needed to bring everybody together. He went for technocrats, performers. And that's the human capital development capacity I am talking about. Once he knows you have the capability to perform, he will go for you regardless of where you come from and this has translated into some of the remarkable growths we have witnessed in the nation. Look at Mr. Tunde Fowler for example, he was able to identify Mr. Fowler and the man generated a lot of revenue for Lagos state. He went to the federal level and performed as well because we know what he met and left. Or is it the vice president, Yomi Osinbajo, that was a lecturer at Unilag and nobody knew him? The highest political position that the vice president had was when he was P.A. to his Excellency Prince Bola Ajibola. He brought him in as a commissioner and from the commissioner, he rose to become a vice president, even at his own expense. People were talking about a Muslim-Muslim ticket but we would've had our way because we had a Muslim-Muslim during the Abiola and Kingibe era and it worked. But he sacrificed it for Osinbajo. He also sacrificed his senatorial ambition for my leader in my own senatorial ward and that's Senator Ganiyu Olanrewaju Solomon, how many leaders can do that? And there are so many of such hidden sacrifices that we don't know. Asiwaju is always ready to forgo his own plans in order to develop others. Look at our former Economic Planning and Budget Commissioner, Ben Akabueze, who is an Igbo man. Look at the present Special Adviser on Drainage, Joe Igbokwe. Look at Kabiru Ahmed Abdullahi, the present commissioner for Waterfront Infrastructure Development. Babatunde Raji Fashola is Baba's product, he was the one who identified the capabilities of Fashola. We can go on to mention Ambode and current Governor of Lagos State, Babajide Sanwo-Olu and several others. The present Postal General of Nigeria was our Lagos State former commissioner of Economic Planning and Budget, Bayo Adewusi was also discovered by Asiwaju. You can also talk of Senator Michael Opeyemi Bamidele MOB of Ekiti Central, he was our former commissioner for Information in Lagos state. Our first commissioner for Finance, Edun, another brilliant man, he brought all of these people together. And that's why we have a Lagos state that we are proud of today. That human resource development capacity that he has is what I cherish the most about him.
How about this perceived opposition people fear he might get from within the APC, especially from those who are not aligning with his aspirations. How do you think this will pan out if such people stand in his way?
My brother, in a political setting like this, there will certainly be alignments and realignments of forces. As politicians, this is expected. People will get up and begin to agitate for positions they have not even merited. Some of them cannot even win the councillorship elections in their wards but they will say they want to become president. Some of them do that just for people to know that they are there in the fold. It is only here in Nigeria that I know you hear people being introduced as former presidential aspirants and people will be happy to ascribe that to their name. But the thing is, when it gets to the nitty-gritty, we will separate the wheat from the chaff. To lead a country like Nigeria, you need someone that's urbane, someone learned, we need someone that can bring about economic engineering, someone with the political sagacity that will address every political and economic problem we have in the country. And if I must be honest with you, I have looked around and can't find anyone with those kinds of qualities, except Asiwaju. Let whoever wants to contest from the south-west come out. We will find a way to work around it and carry everybody along. That was how MKO had problems from within but we were able to resolve the problem then we moved to the central. We will solve whatever problem that comes up insha Allah.
Some people are concerned about Asiwaju's age and of course his health. They wonder if his age and health can carry the pressure of ruling a country like Nigeria? Do you share these concerns?
You see, it's only those who do not understand how governance is being done that will say he has a lot of burden to carry on his shoulder. You need to simplify your administration as well as governance. As a leader, it's not everything you carry on your head. When he was Lagos state governor we know how he ran his government. He didn't need to be checking on what the commissioners were doing every minute, he assigned duties and he had absolute trust in them. You can trust that he will do same if he becomes president. All he will be waiting for from his ministers is results. He had blueprints. The blueprint of Ehingbeti that Asiwaju laid when he was governor is what we are still following till now. That same style is what he will replicate when he becomes governor. How can you talk of age when American president, Joe Biden, is older than him by over ten years. Donald Trump too was much older when he was president. He will perform because he has able lieutenants, brilliant men and women who will form his cabinet and they will perform wonders. They will assist him carry the burden of governance. I need to remind you that when he was forming his cabinet in 1999, it was a blend of the old and the young. When we had Baba Adio Badmus, the then commissioner of Education who was in his 70s, we had people like Muiz Banire and Dele Alake who were in their 30s. So, if an Asiwaju, who himself is a workaholic, has this kind of team working for him, he will just take it easy because the results will definitely be coming one after the other. He has never disappointed us and that won't change. As regard his age, its only almighty Allah that gives sound health.
There are fears that some people within the party are set to scuttle his chances. These are dissenting voices that seem bent on standing in Asiwaju's way come 2023 and this has got some people cautioning them and warning us, saying Yoruba e ronu. Do you share these fears?
Oh, yes, I do. I have to. From past experience, we have every reason to worry those concerns. Dissenting voices have worked against us in the past and that's why we are sounding a note of warning to the people saying he will not become the president, reminding them of what happened in the past. But by the special grace of God, we shall overcome the problem. That's why I am happy Afenifere are throwing their weight behind him and as well as the governors too. We are starting to realize that for us to get the presidency, we must come together. There should be unity of purpose among all the political leaders. If we are united in the west, the south and east will surely stand behind us.
Do you think an Asiwaju presidency will come under pressure from the north to do their bidding as some people are postulating?
The Asiwaju that I know will never do something that will be to the detriment of the nation. He is a statesman, something like that will never occur by the special grace of God. The northerners you're talking about, are they not Nigerians? They are Nigerians and right now, things have gotten to a point where it no longer matters where you come from, so long as you can get the job done. At least we see on television how people crowd him anywhere he goes. Or do you think they are rented crowds? They are not. Asiwaju has really done well for all the regions, north, east, south, south-west, name it.
Another concern of many Nigerians is that the northern powers may not hand over power to Asiwaju because he is not somebody they can tele guide, that they would prefer somebody not quite as influential as Asiwaju who does not have the clout to disregard their bidding, do you think things can pan out this way?
You see, it's a disservice to the northerners if people think the way you just put it. It's a big disservice to them because there are highly educated and cerebral people among the northerners. For our nation to move forward, we need to make some sacrifices. We need to support whoever can perform very well. They know the many qualities that Asiwaju possesses and by the special grace of God, they're going to support him. They will support him because they know he is primus inter pares, the first among equals.
Your last words or prayers for Asiwaju
My prayer for him is that Allah should spare his life beyond 2023. Almighty should give him sound health and the wisdom to navigate through the many obstacles he will encounter along the way. I pray he also gives him the ability to know those who genuinely love him from those who despise him. And most importantly, I pray Almighty Allah gives him the ability to deliver the nation from the political and socio-economic problems that have continued to bedevil our country.
READ ALSO: REAL ESTATE COY. THE ADDRESS HOMES PARTNERS LASG
Send Us News, Gist, more... to citypeopleng@gmail.com | Twitter: @CitypeopleMagz